BofA Agrees to $16B in Penalties for Bad RMBS—the Biggest Settlement in American History
---
---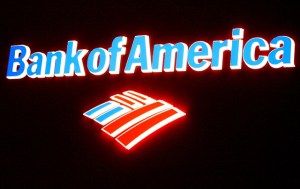 Bank of America has agreed to pay over $16.6 billion to end federal and state probes into its mortgage bond sales, U.S. Attorney General Eric Holder announced in Washington, D.C. this morning. The fine—which takes the form of penalties as well as consumer relief—is the largest civil settlement with a single entity in American history.
While other banks have paid hefty sums to settle similar claims (Citigroup paid $7 billion and J.P. Morgan $13 billion), the punishment is by far the most severe meted out by the government for behavior pre-2008. 
The settlement between the Charlotte-based financial giant and the U.S. Department of Justice requires Bank of America (BAC) to pay a $9.65-billion cash penalty and $7 billion in consumer and homeowner relief, including write-downs, and ends a drawn-out saga for the bank, which began with its acquisition of Countrywide Financial as the country's housing market came tumbling down in 2008.
"The size and scope of this multibillion-dollar agreement go far beyond the 'cost of doing business,'" Mr. Holder said in a prepared statement. "This outcome does not preclude any criminal charges against the bank or its employees. Nor was it inevitable, over these last few weeks, that this case would be resolved out of court."
Bank of America issued a statement in support of the outcome, but underscored that the claims were related to practices at Countrywide and Merrill Lynch, prior to their acquisition by Bank of America in 2008.
"We believe this settlement, which resolves significant remaining mortgage-related exposures, is in the best interests of our shareholders, and allows us to continue to focus on the future," Brian Moynihan, Bank of America's CEO, said in the statement.
As part of the settlement Bank of America formally admits that the RMBS it sold "contained material underwriting defects; they were secured by properties with inflated appraisals; they failed to comply with federal, state, and local laws; and they were insufficiently collateralized," Mr. Holder said, according to a transcript on the Department of Justice website.
The securities, which were re-packaged slices of subprime adjustable rate mortgages in many cases, were some of the worst among the alphabet soup of intertwined financial products that brought the U.S. economy to its knees in September of 2008.
Criminal charges against former Countrywide CEO Angelo Mozilo are currently being weighed by federal prosecutors in Los Angeles, according to a report from The New York Times.
—Additional reporting by Guelda Voien