Barclays Funds $89M Acquisition of Midtown Extended-Stay Marriott
---
---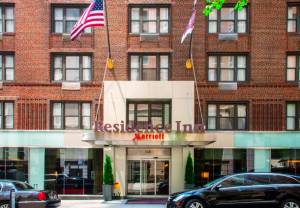 Greenwich, Conn.-based Arch Street Capital bought the Residence Inn New York Marriott with a $57 million loan from Barclays, the bank confirmed to Mortgage Observer.
Arch Street, a real estate investor and adviser, bought the leasehold interest at 144 East 48th Street from AEW Capital Management for $89.6 million, according to records filed with the city today.
The Boston-based real estate investment manager did not respond to a request for comment and no one at Arch Street was reachable by phone. A Barclays representative declined to provide further details on the loan.
The extended-stay hotel, which has a kitchen in every apartment, sits at Lexington Avenue. It was previously owned by notorious real estate baron Harry Helmsley (husband of even-more-notorious dog lover Leona).
Last called the Helmsley Middletowne Hotel, the building was converted from tenement apartments in 1928, according to The New York Times archives.
The Helmsley trust sold it for a tad over $40 million in 2009 and Marriott took over operation of the 17-story lodge in 2013.
AEW also announced today that it closed AEW Senior Housing Investors II, L.P., an opportunistic fund that will invest in senior housing. The fund, AEW's second to target that sector, has $371 million in equity commitments, surpassing its cash raising goal of $250 million, according to a release from AEW.