I started working in the commercial real estate industry in the summer of 2006 and throughout my nearly eight years in this business I have always been told that there is a seasonal pattern to activity in the Manhattan office market. The beginning of the year into the spring is busy, activity falls off in the summer and then ramps up again in the fall for a strong close. I have always heard that December is the strongest month of the year as brokers and landlords seek to book transactions before the end of the year. But that summer slowdown did not seem to fit with what my schedule was telling me. Far from falling off, my schedule seemed just as active in the summer as in the winter, spring and fall.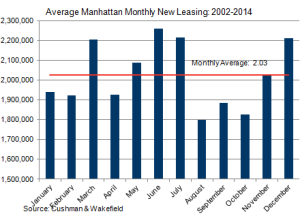 So I took a look at the pattern of leasing over the course of a year to see if it fit with what everyone thinks, or with my experience. I found a little of both. Since the beginning of 2002, monthly new leasing in Manhattan has averaged 2.025 million square feet per month and some months have averaged much higher activity while others have been averaged significantly lower volumes.
The busiest month of the year, on average is June, when new leasing has averaged 2.26 million square feet. But surprisingly, the second busiest month has been July with an average of 2.22 million square feet, edging out December with an average of 2.21 million square feet .
The slowest month of the year has been August at 1.8 million square feet, followed by October and September.
However, although these averages suggest a pattern of seasonality, it can't be verified. There have been years when August has been one of the strongest (2004 for example) and last year July was one of the slower months of the year (ranking eighth). In addition, the end of the year is not always the most active. In 2011, the strongest leasing year since the late 1990s, December was, by far the weakest month of the year.
Bottom line? Leases have a life of their own. They are transacted when it is in the best interests of both parties involved and have very little to do with the calendar. While the office may seem a little quieter over the summer (especially on Friday!) those people who are working can produce significant leasing transactions. Unlike the stock market, where, as the saying goes "sell in May and go away", if you stop paying attention to the Manhattan office market in summer, you will likely miss some of the biggest deals of the year.