Silverstein Will Roll Out Case for Hudson Yards Mega-High Rise
---
---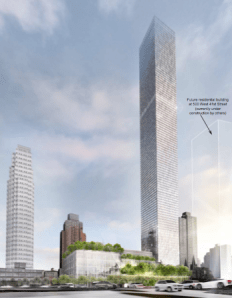 Attorneys for Silverstein Properties will present their case for turning a two-acre Hudson Yards site at 520 West 41st Street into a 1,100-foot-tall residential and commercial tower in the proposal's first public hearing at the Department of City Planning tomorrow morning.
The plan would turn "Projected Development Site 46" of the 2005 rezoning from a potential office tower to a mega-high rise with 1,400 residential units, 175 units of corporate housing, 300,000 square feet of retail space and a 10,000-square-foot covered public open space; and the Silverstein team will argue with Chairman Larry Silverstein's signature vehemence on Thursday that only residential development would unlock the potential of the site that's adjacent to the Jacob K. Javits Convention Center and approaches to the Lincoln Tunnel.
"The applicant believes that the proposed zoning text changes to facilitate the residential development at the site are appropriate and necessary as the project site has unique qualities and characteristics that make it more suitable for residential development while at the same time unsuitable for large-scale office development," reads a draft environmental study document that rolls out a litany of reasons for the shift to residential in advance of the proposed rezoning plan's Uniform Land Use Review Procedure.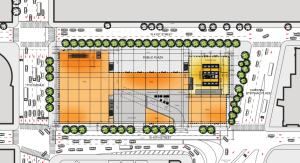 Unlike other public zoning documents that hide the names of a company or its principals behind an LLC, this document not only features the company's real name, it expounds the several-pronged argument style of its famous chairman.
The space no longer commands a viable spot for offices, lawyers for Silverstein say, without a previously-planned 7 subway station that's been deemed too costly and with the tunnel blocking access to other parts of Hudson Yards. And Metropolitan Transportation Authority and Amtrak infrastructure below the ground would make an office tower "extremely difficult (if not impossible)" to construct on the site, Silverstein's application says.
With new residential towers now marking the area south of the Clinton residential neighborhood, including the twin Silverstein-owned, 60-story Silver Towers, the previous plans for a commercial tower should no longer apply, according to the proposal.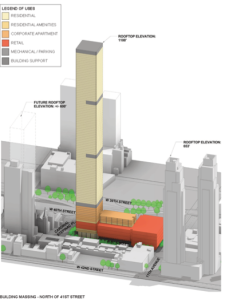 "Without the zoning text change, the project site would likely remain underutilized for many years to come, neither contributing to the Hudson Yards District Improvement Fund or the city's tax base nor mitigating the physical barrier between the Hudson Yards district to the south and the Clinton neighborhood to the north," reads the document, noting that a 2011 Cushman & Wakefield study found that the site would lay dormant until at least 2041.
On the other hand, the proposal continues, if the new plan gains approval, the building will be occupied by 2020.
Thursday morning's hearing at City Planning will invite public comments on the proposed scope of the environmental impact study required under ULURP.