SAG-AFTRA Office Space on Madison Available for Sublease
---
---
Screen Actor's Guild and American Federation of Television and Radio Artists will offer for sublease 56,000 square feet of office space in two buildings on Madison Avenue, Commercial Observer has learned.
SAG-AFTRA has relocated to a combined space at One Lincoln Plaza, 1900 Broadway, following a March 2012 merger of the two labor unions.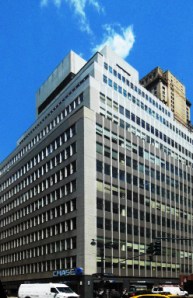 The available spaces are located at 360 Madison Avenue, between 45th and 46th Streets, and 260 Madison Avenue, between 38th and 39th Streets. Both buildings are in close proximity to Grand Central Station and Bryant Park.
Rental rates for 360 Madison are "negotiable," according to a release issued by Denham Wolf Real Estate Services, SAG-AFTRA's exclusive broker for the subleases, while rates for 260 Madison are "below market."
Class-A availabilities at 360 Madison include the 21,844 square-foot 12th floor and 14,243 square-foot 13th floor, the release further stated. Sublease terms are eight-plus years, through October 2022.
Offices, a conference room and a connecting staircase comprise the two floors, along with a 6,000-square-foot private outdoor space, available for use after upgrades for regulatory compliance are completed.
The space at 260 Madison is 20,471 square feet on the seventh floor, according to the release, with a sublease term of nearly three years, through May 2017.
The seventh-floor space is furnished and includes offices and conference rooms.
SAG-AFTRA's separate offices on Madison Avenue were vacated in December 2013, with the combined office opening near Lincoln Center the following month, a previous release issued by the Union stated.
Representatives from Denham Wolf declined to comment further on asking rent for the spaces.