Recently Opened LIC Hilton Extended-Stay Hotel Hit with Lis Pendens [Updated]
---
---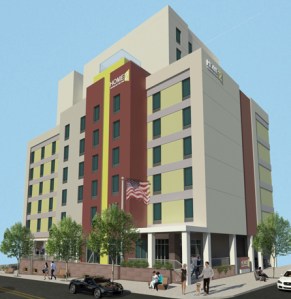 Mere months since Home2 Suites by Hilton Long Island City/Manhattan View opened in the Long Island City neighborhood of Queens, the extended-stay hotel has been slapped with a lis pendens.
The 10-story, 115-suite hotel, at 39-06 30th Street, with an alternate address of 29-14 39 Avenue, is the Home2 Suites by Hilton's 31st hotel and second one in New York State, the company said in a recent press release.
It was hit with a lis pendens last Friday, according to PropertyShark.
Jacob Rad, a member of JSDMJ LLC, the managing member of LIC Hotel Property LLC, the owner of the site, arranged a $14.075 million mortgage from Taiwan-based Mega International Commercial Bank on April 11, 2013 to help finance the construction. According to Mr. Rad's attorney, Kenneth Fisher of Cozen O'Connor, LIC Hotel Property LLC partner Sam Klein initiated the legal action, which Fisher said "will be vigorously defended."
"It's a dispute over management of the development," Mr. Fisher said via email.
It appears that the owner acquired the building for $3.5 million in 2007, financing it with a $2.7 million loan, according to property records.
The New York City Department of Buildings has issued the site two temporary certificates of occupancy, the first one in April, and there are still active construction permits, a department spokesman said. The site was brought to the agency's attention in terms of potential zoning regulation issues last year and DOB did an audit of the plans. It was deemed compliant last October, and there are no open violations.
The hotel brand's press person directed a reporter to Josh Davalos, the new general manager for the hotel, who wasn't familiar with the lis pendens.
Update: This story was edited so it doesn't suggest the property was in default just because it was hit with a lis pendens, and includes information from Jacob Rad's attorney.