PA Announces New Chairman, $90M for Bus Terminal Improvements
---
---
The Port Authority of New York & New Jersey announced $90 million in improvements for its 64-year-old bus terminal yesterday.
"The functionally obsolete facility no longer meets the transportation needs of the hundreds of thousands of riders that pass through the terminal every day, and the Port Authority is committed to identifying comprehensive improvements within the context of its existing Capital Plan," according to a joint prepared statement by Port Authority Executive Director Pat Foye and Deputy Executive Director Deborah Gramiccioni. "This initiative will make interim improvements to the terminal as the agency explores a program to deliver a redeveloped facility."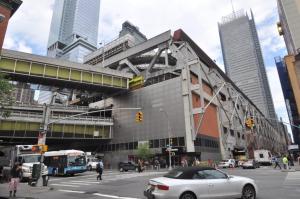 While the initiative will be aimed at improving the bus commute from New Jersey to Midtown Manhattan, more details will be revealed at the Port Authority's board meeting in September, the Wall Street Journal previously reported.
The Port Authority also announced the election of former New Jersey Attorney General John Degnan as chairman of the agency's Board of Commissioners. Improvements to the bus terminal are widely reported to be supported by Mr. Degnan.
Mr. Degnan, who was nominated by New Jersey Governor Chris Christie and confirmed by the New Jersey State Senate earlier this month, recently held the positions of Vice Chairman and Chief Operating Officer of New Jersey-based international insurance company, the Chubb Corporation, according to a release issued by the Port Authority.
The new chairman follows David Samson, who resigned from the position in March. Scott Rechler, the CEO of RXR Realty and vice chairman of the Port Authority's Board of Commissioners, assumed the chairmanship in the interim.