Nordstrom Officially Announces Empire Outlets Lease
---
---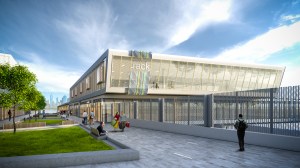 Seattle-based Nordstrom, Inc. will be opening a 34,000-square-foot Nordstrom Rack at Staten Island's Empire Outlets, New York City's first outlet center, the store announced today.
Last month, Commercial Observer reported the deal was signed with BFC Partners, the developer behind Empire Outlets.
Nordstrom Rack, the off-price retail division of Nordstrom, will be one of roughly 100 retailers going into the 1-million-square-foot waterfront development in the St. George neighborhood. This will be Nordstrom's seventh Nordstrom Rack location in New York.
Joseph Ferrara, a principal at BFC Partners, said the store will anchor the development.
Empire Outlets will be built above current transit parking and integrated into the Staten Island Ferry terminal.
"We want Nordstrom Rack to be Staten Island's destination for great brands at great prices," said Geevy Thomas, the president of Nordstrom Rack, in a prepared statement. "We've been focused on finding the best locations across New York City and are thrilled to have the opportunity to serve New Yorkers and tourists alike at this major transportation hub and destination that will combine great retail, entertainment and restaurants."
BFC declined to comment on asking rents and lease terms.