Jeff Sutton Receives $95M Loan for Harlem Whole Foods Project
---
---
Wharton Properties has obtained a construction loan from Natixis Real Estate Capital to develop a 33,000 square foot retail property along 125th Street, Harlem's busiest commercial thoroughfare, Mortgage Observer has first learned.
A person with knowledge of the loan confirmed the amount as $95 million and added that it was a three-year, interest-only loan with two 12-month extension options. The interest rate, that person said, is roughly 300 to 399 basis points over one-month Libor. The loan closed on July 11.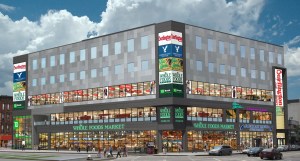 The development site at 100 West 125th Street sits at the corner of Lenox Avenue. The project is slated to include Whole Foods Market as its anchor tenant, with additional space to be leased to American Eagle, Olive Garden, TD Bank and Burlington Coat Factory.
The retail leases will be for 20 years and the person familiar with the transaction said those spaces were 77 percent pre-leased as of Monday.
Another source, who asked not to be named, put the total retail square footage at "around 200,000," which means there will be multiple floors of retail on the site. Records filed with the New York City Department of Buildings indicate the completed building will rise to six stories.
Construction on the retail property began earlier this year and is due for completion in 2015, as Commercial Observer previously reported.
Jeff Sutton of Wharton Properties declined to comment. Natixis did not return requests for comment.
—Additional reporting by Scott Klocksin