Mayor Taps Rick Chandler as DOB Commish [Updated]
---
---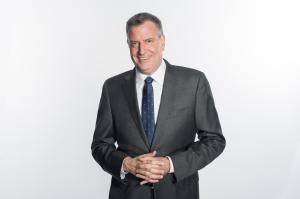 Mayor Bill de Blasio has named Rick Chandler as the commissioner of the Department of Buildings and believes Mr. Chandler will make DOB a "truly customer-friendly agency," he said while announcing a series of appointments at City Hall.
The mayor said that too many New Yorkers are "not having a good experience with DOB," and added:  "We aim to change that." Mr. Chandler will assume the role around July 28.

Mr. Chandler has been an assistant vice president for facilities at Hunter College, supervising 300 employees and controlling daily facility operations for 10 million square feet. Mr. Chandler served as assistant commissioner for Housing and Placement at the Department of Homeless Services and as Borough Commissioner at the DOB for Queens, Brooklyn and the Bronx from 1995 to 2002, according to DOB.
"During his time at DOB, [Mr.] Chandler was responsible for managing large teams of architects and engineers in reviewing construction plans for code compliance, as well as directing inspections for regulatory compliance and sign-off," DOB said in a release.
Mr. de Blasio said he has asked Mr. Chandler to determine what changes need to be made to apply "modern approaches that will actually treat our customer fairly."
Robert LiMandri stepped down as DOB commissioner before Mr. de Blasio entered office this year. As Crain's New York Business reported in May, Mr. LiMandri, who was DOB's commissioner for five and a half years, is working at Vidaris, a consulting firm in the construction industry.
"We commend the mayor for selecting Rick Chandler, a person who has true hands-on experience and a wonderful reputation for identifying problems, solving them, and protecting the public interest," said Steven Spinola, the president of the Real Estate Board of New York, in a prepared statement.
Mr. de Blasio also announced today the appointments of Richard Emery as chair of the Civilian Complaint Review Board and Carmen Beauchamp Ciparick and Barry Cozier as chair and vice chair of the Mayor's Advisory Committee on the Judiciary, respectively.
THIS JUST IN: Mayor @BilldeBlasio names Rick Chandler as the Department of Buildings Commissioner.

— NYC Mayor's Office (@NYCMayorsOffice) July 17, 2014
Update: This story was edited to include comments from the mayor and the president of the Real Estate Board of New York as well information about the non-Department of Buildings appointments and Rick Chandler's start date.