Manhattan Office Investment: Midyear Review
---
---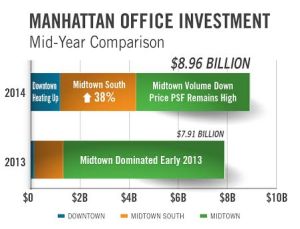 The Manhattan office investment market had a stellar second quarter this year as investment volume more than doubled the first quarter's total. With $5.98 billion traded in the second quarter alone, it brought the year-to-date total to $8.96 billion. The nearly $6 billion figure equaled the second-highest quarterly total over the last 18 months as investors continue to pour money into Manhattan office product.
Midtown South has been the biggest benefactor this year, as total sales volume there is 38 percent higher than all of last year, with $3.1 billion already completed in the first six months of 2014. The average price per square foot for Midtown South properties remains at a historical high, averaging $659 so far in 2014. The Chelsea/Meatpacking District submarket had the most properties trade this year within Midtown South, while the Hudson Square/Tribeca submarket had the fewest. Despite there only being four trades, this submarket also had the largest sum of money invested into it of any throughout the city due to the sale of 388-399 Greenwich Street, where SL Green purchased a partial interest worth $778 million (or $598 per square foot).
Midtown did benefit from the sale of the ground lease of 5 Times Square from AVR Realty to David Werner Real Estate for $1.5 billion, bringing the mid-year total to $4.7 billion. Despite sales volume in Midtown of close to half a billion dollars, the totals are down 30 percent compared to mid-year 2013. The average price per square foot for all assets is a healthy $811, but with lack of Class A product for sale, it has pushed that product type's price per square foot average even higher, to over $1,300 per square foot.
Like the lower Manhattan leasing market, the investment market there continues to gain steam. In the second quarter, the sales volume, at $993.3 million, more than tripled first quarter totals and brought the year-to-date total to $1.2 billion. Six properties traded in the second quarter for an average of only $366 per square foot, as only one of the investments was in a Class A asset.