Down to a Science: John Cahill of Colliers International
---
---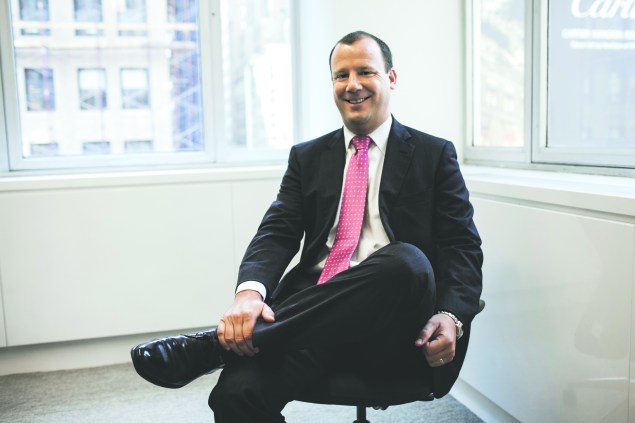 As the son of a doctor and a nurse, broker John Cahill may have been predestined to work in the medical field in one form or another. Fresh out of Syracuse University, the New York native first chose pharmaceutical sales as his field of choice.
Initially lacking the required experience, Mr. Cahill spent one year at ADP learning the ropes of a sales role and in the process picking up both his employer's Rookie of the Year award and an expense-paid trip to Hawaii.
That resume was enough to make the jump to pharmaceutical sales, where Mr. Cahill spent more than half a decade travelling the country, learning the ins and outs of the pharmaceutical and biotech industries and walking through office, lab and manufacturing spaces.
"I would see people in space suits and various levels of protection while they were manufacturing," he recalled. "Liquids, solids, everything."
After seven years in the industry, Mr. Cahill began to see both the pharmaceutical industry and the sales positions within it start to change, and he too decided to transition.
With his wife's encouragement, Mr. Cahill pursued his real estate license and a role in the expanding life sciences brokerage field. It was far from an easy process: Mr. Cahill spent close to a year interviewing with the largest real estate firms in New York and New Jersey.
It was during that time that Cushman & Wakefield was beginning to put together a life sciences practice group and Mr. Cahill's experience in the pharmaceutical industry made him a perfect fit.
"I was the next logical piece for the team, so I broke into the business that way," he said.
Based in New Jersey, the bulk of Mr. Cahill's early career was spent on deals outside of New York City, in more readily identified pharmaceutical hubs in the Garden State and Westchester County.
His breakthrough deal, he said, was the $27 million sale of Purdue Pharma's 43-acre Ardsley, N.Y. campus to OSI in 2009.
Later, Mr. Cahill was part of a team that, over the course of two years, brokered a 147,000-square-foot headquarters deal for Watson Pharmaceuticals in Parsippany, N.J.
His growing reputation within the niche life sciences brokerage community meant it wasn't long before Mr. Cahill's talents were in demand. He was reluctant to leave C&W but admits it felt good to be wanted. And when Colliers International came calling in 2011, the offer was too good to refuse.
"I was being recruited and I wasn't looking to leave but then, all of the sudden, I had options," he remembered. "It gave me the opportunity to take everything to the next level."
| | |
| --- | --- |
| "I'm optimistic and very hopeful that in the near future there will be many buildings being redeveloped for more lab space." | |
Initially based in Parsippany, Mr. Cahill has recently shifted to New York, doing the majority of his work from Colliers' Fifth Avenue offices. His goal as part of the firm's life sciences team is to meet the unmet demands of New York's growing life sciences industry in which lab space—much like commercial space—is at a premium.
Mr. Cahill is currently working with both users and developers to identify areas of opportunity where lab space can either be developed from the ground up or converted from existing office space.
He is cagey about his work, declining to name specific areas of the city he is working in, but did say that both lab space developers and commercial developers are eying the life sciences field.
Demand for lab space is clearly there, Mr. Cahill said, but with stiff competition from other life sciences hubs in Boston-Cambridge, San Diego-La Jolla and the San Francisco Bay area, he admits there are obstacles to overcome. For staters, New York's 1.7 million square feet of life sciences space pales in comparison to the 20 million square feet in the much smaller Boston/Cambridge region.
But industry leaders and the city are working together to boost availability of lab space. Already, the Alexandria Center for Life Science, a facility located on East 29th Street at the East River Science Park, has added over 700,000 square feet of lab space to the city and there is more on the way.
"The urgency and the effort are there across the board," Mr. Cahill said of the city's ongoing work to develop lab space and attract tenants.
The city, in cooperation with the Department of Health, issued a request for proposals in December to developers for the redevelopment of 455 First Avenue. A renovation of that property would see the Department of Health, the building's largest tenant, consolidate its space and free up five floors for new lab tenants.
"I'm optimistic and very hopeful that in the near future there will be many buildings being redeveloped for more lab space," Mr. Cahill said.
Though he is a life sciences specialist, Mr. Cahill remains nimble in his work. Like so many of his colleagues in the brokerage industry, the economic downturn hurt Mr. Cahill's pipeline of business and he was forced to shift his focus away from his more traditional assignments.
Indeed, Mr. Cahill, whose wife works in fashion, turned to retail. The broker is the exclusive U.S. tenant representative of Australian retailer Zimmermann and has helped the brand close deals in Soho, the Meatpacking District and East Hampton.
The combination of assignments is a welcome challenge, he said.
"It's great," he said of the variety. "They're very different, which is good because it changes things up for me."
Rather than maintain his current level of work, Mr. Cahill expects to ramp up his business on both the life sciences and retail sides.
"I welcome more assignments," he said. "My retail business is expanding and my life sciences business is expanding, which is a good thing, I can't complain."