CompStak Q2 Report: Manhattan Office Market 'Bullish'
---
---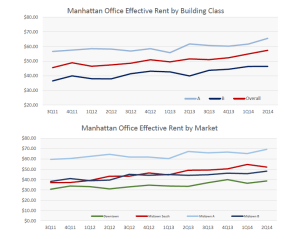 The latest quarterly Manhattan office rent report from commercial lease database CompStak details a "bullish" market where new Manhattan office leases represented more than 66 percent of new leasing activity this year, versus only 54 percent in 2013.
Despite a $2.07-per-square-foot decline in Midtown South rents to $52.62, analysts pronounced all three markets healthy, citing large-scale leases at Brookfield Place and the World Trade Center, as well as notable signings like Yelp's 152,232-square-foot deal at 11 Madison Avenue."The second quarter was the harvest season of the office leasing industry," the report reads. "Led by positive velocity in the performance of the class A sector, the Manhattan office market posted the third consecutive quarter-over-quarter growth in effective rent, which increased $2.51 to $57.45 per square foot this quarter."
Midtown remained strong in the second quarter, with 16 triple-digit starting rent leases signed, and the area's effective rents jumped $4.15 to $69.41 per square foot, according to the report. Downtown's rent grew $2.97 to $39.43, with deals at Brookfield Place like  Time Inc.'s 669,832-square-foot lease and BNY Mellon's 358,278-square-foot agreement driving the increases.
"The most notable fact in quarter two is how submarkets that kept a low profile less year, such as Sixth Avenue and Times Square, shined in the second quarter with over 10 percent year-over-year growth," senior research analyst Wayne Yu said in a prepared statement. "This has additionally contributed to more relocations to Downtown and strong performance in that market."