Blackstone Refis Chicago Office to the Tune of $82M
---
---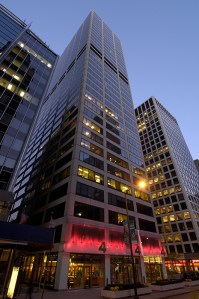 HFF has arranged an $82.15 million refinancing for a 517,115-square-foot office property in Chicago, Mortgage Observer has exclusively learned. The building, at 444 North Michigan Avenue, is owned by GLL Real Estate Partners.
Working on behalf of Munich-based international real estate fund manager GLL, HFF sourced the floating-rate loan provided by Blackstone Mortgage Trust, a representative for the brokerage said
GLL's 33-story property is located on the Magnificent Mile section of Michigan Avenue and in Chicago's central business district. The office is currently undergoing renovations.
"GLL has strategically invested capital into the property that has had a positive impact on the property's performance," said HFF managing director Stephen Skok. "Also, the property has strong leasing momentum and the occupancy should exceed 90 percent within a year."
Senior managing director Mike Kavanau led the HFF debt placement team that arranged the loan, along with Mr. Skok.
Building tenants include Comcast, Fox Entertainment and National Cable, among others.
"444 North Michigan has an extremely valuable retail component, which is currently available," said Mr. Kavanau in the statement. "As the nexus of luxury retail continues to move south on Michigan Avenue, this will appeal to many high end tenants."
Representatives of HFF declined to comment further on the terms of the transaction.