The Changing Face of Office Space: NYC Real Estate Adjusts to the Times
---
---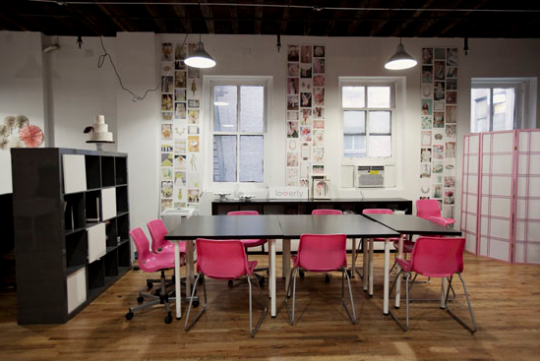 Success in the app world doesn't necessarily lead to real ceilings and central air-conditioning. Lover.ly—which helps brides plan their weddings by curating, saving and sharing products for every phase of the ceremony from stationery to cakes—has grown into a thriving marketplace where vendors peddle 400,000 products and 44 wedding bloggers get exposure and advertising just two years after chief executive officer and founder Kellee Khalil launched the app on Valentine's Day in 2012. But the company of 15 full-time employees works out of the third floor of a creaky walk-up building off Madison Square Park where workers were installing window units on Friday when Commercial Observer paid a visit. 
Businesses like this young Silicon Alley startup, where most employees sit in front of laptops at spare common desks, are part of a growing movement toward scaled-down, collaborative offices that poses a challenge to New York City's scaled-up real estate industry. The rising number of offices that are anything but traditional in their desk arrangements and lease agreements is in evidence at offices ranging from those of the latest tech firms to old-line financial institutions. But the changed look of the city's modern offices won't lead to dormant towers or millions of unused square feet, experts and insiders say.
"There are a lot of people who think about this, especially furniture makers and designers," said Barry Hersh, a professor at the NYU Schack Institute of Real Estate. "The fact that it's a new kind of space doesn't mean they don't need space."
| | |
| --- | --- |
| "The changed look of the city's modern offices won't lead to dormant towers or millions of unused square feet, experts and insiders say." | |
The new normal does, however, have implications for the type of offices that will be in high demand in coming years, according to a study released in December by the city's Economic Development Corporation. Noting a drop in the average individual office workstation size from 250 square feet per employee ten years ago to as little as 135 square feet per staffer today, the report forecasts that companies eager to move into consolidated and repurposed space will actually demand 6.1 million square feet more of Class B and Class C space than the market can provide by 2025. And while 48,965 new technology jobs will by that time require 4.8 million more square feet of all types of spaces—the second highest total behind health care's 137,341 new jobs and 6.3 million square feet—experts predict that other professions will embrace collaborative offices in the competition for employees.
That means that building owners would do well to cater to tenants looking for smaller, short-term leases, said Ashkán Zandieh, a broker who founded RE:Tech, a network of real estate professionals, tech entrepreneurs and seed investors.
"If you're a landlord, you want long-term leases," said Mr. Zandieh. "When you have short-term leases and the leases come due, it's a pain in the ass. But one way to get around this is to have a co-working space."
Mr. Zandieh pointed out the success of WeWork, a collection of joint office spaces with 11 city locations and counting that are stocked with amenities like game lounges and gym memberships. Web-based companies like Reddit and Airbnb use WeWork, but so do teams from more established names like American Express and Bank of America.
And even some of the newest high-end buildings have areas designed for shared space these days. Silverstein Properties offers individual desks for as low as $450 per month and a minimum term of only six months in the Silver Suites on the 46th floor of 7 World Trade Center. New firms like the medical research company Syntactx and the online mental health hub TalkSession both started at the location that Silverstein's chief investment officer, Tal Kerret, opened last year for startups and small companies, offering tenants both corporate housing options and free Starbucks coffee.
"I've been there," Mr. Kerret, a former tech CEO, said of a startup's salad days and early search for a real estate footprint. "When you have a great vision, it's wonderful. But I saw that you have to spend 35 to 40 percent of your time with things that have nothing to do with your business."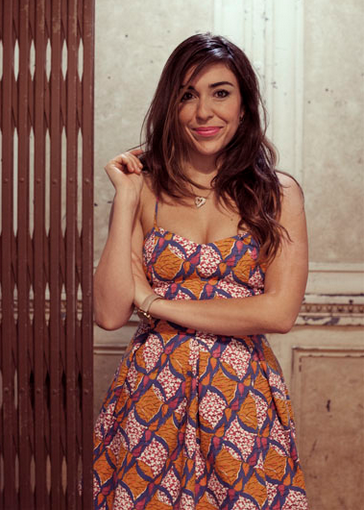 Lover.ly certainly fits that bill. Ms. Khalil outlined how the company started out in her apartment and then moved into a single 150-square-foot conference room before settling into its raw 2,700-square-foot headquarters in October 2012. The company installed a sink and kitchenette in the painted pink and white space where the exposed wooden beams of the floor above act as a ceiling of sorts. Affordable rent terms, which Ms. Khalil declined to specify, are keeping the company—whose revenues grew by 400 percent in 2013—in its current location in a low-slung building at 33 West 26th Street. But she didn't rule out a move in the future.
"I love the idea of being in an open loft space because I like having a collaborative space," said Ms. Khalil, who was seated at a makeshift CEO desk that rests just a few feet from the rest of the staff. "But we're just on top of each other, and we're getting to where we'll need an actual office space."
Established tech firms such as Tumblr, the social media platform owned by Yahoo on which 189.6 million blogs publish 86.5 million posts a day, have experienced similar transitions, albeit on a larger scale. Megan Leet, Tumblr's office operations manager, has watched the staff in the company's New York City headquarters at 35 East 21st Street grow from under 20 employees four years ago to 180 today. Ms. Leet described the company's 26,000-square-foot office (which translates into 144 square feet per employee) as "ideal" after hiring A + I Architecture to install warm lighting, plant life, teleconferencing phone booths and couch-filled conference rooms.
"We kind of gutted the space," said Ms. Leet, who also manages Tumblr's smaller offices in Los Angeles, Chicago, Detroit, Atlanta and Richmond, Va. "We wanted to make it as open as possible. It's actually a really cool old building."
More cool old buildings are hitting the market all over town, as owners and brokers rush to feed the demand for such spaces in fast-growing outer borough neighborhoods. Brownstoner Media, BFC Partners and Goldman Sachs partnered to open a 150,000-square-foot office warehouse at 1000 Dean Street in Crown Heights last week, as Commercial Observer reported. And leasing agent Christopher Havens of Aptsandlofts.com doesn't anticipate he'll have any trouble filling up the former Studebaker Service Station's 100 spaces, which vary from 500 to 40,000 square feet, due to the attractiveness of the site after its $30 million purchase and renovation and its location in an area with 4.5 percent office vacancy rates.
"This is one of the best four or five office loft buildings in Brooklyn," said Mr. Havens before a ribbon cutting attended by jubilant elected officials. "There isn't that much that's really at this level." He added that current conditions make for "the tightest Brooklyn office market since World War II."
| | |
| --- | --- |
| "Today's market, new technology and the move away from the traditional office look will eventually rid tomorrow's employees of the cubicles, filing cabinets and corner offices that were once a professional office's defining features." | |
Today's market, new technology and the move away from the traditional office look will eventually rid tomorrow's employees of the cubicles, filing cabinets and corner offices that were once a professional office's defining features, said Howard Grufferman, the vice chairman of Colliers International. Mr. Grufferman predicts companies' smaller footprints and embrace of mobile technology will even lead to lower air-conditioning bills as a generation used to working in coffee shops and natural light comes of age.
"Millennials will become the workforce majority," said Mr. Grufferman. "And millennials were raised in shared space. When you look at their core work habits, it's going to be different than the boomers'."