TerraCRG's Ofer Cohen on Brooklyn Rezoning, Retail and a Revitalized Condo Market [Updated]
---
---
Ofer Cohen, the president of TerraCRG, founded the Brooklyn-focused commercial brokerage and advisory firm in 2008 after a stint as a broker at Massey Knakal Realty Services preceded by time as a partner in a boutique marketing agency. TerraCRG seals roughly 70 deals per year. The firm recently closed the sales of four multifamily buildings in Park Slope and Carroll Gardens for a collective $12.5 million and inked a lease to bring the first Doughnut Plant bakery to the borough in Prospect Heights. Mr. Cohen invited Commercial Observer to the company's office that sits opposite the Barclays Center to dish on the Brooklyn market, contextual rezoning and military discipline.
Commercial Observer: What was the market like in 2013 and what's it like this year? 
Mr. Cohen: In 2013, commercial sales in Brooklyn totaled $5 billion. This was a fivefold increase from 2010, when we only had $1 billion in sales. And we were well positioned to take advantage of that boom, having established ourselves during the recession and really focusing only on Brooklyn. This year we're shooting to do 80 or 90 transactions.
But what is interesting about this year in the Brooklyn market is—specifically for us—the size of the transactions in Brooklyn is getting significantly bigger. Our average listing now is significantly higher than last year. In the first half of 2014, we either closed or put under contract approximately $350 million worth of real estate in Brooklyn. Our goal is to almost double what we did last year. A big portion of it is large development site sales transactions. When the value of the properties doubled or tripled, in some cases, in the core neighborhoods of Brooklyn, the size of the assignments also sort of went with it. We currently have numerous listings in the $20 million-plus range that we're handling. And we think that in 2014, we will [go up] from $5 billion in the market as a whole to $6 billion-plus, which is roughly a 15 to 20 percent dollar increase.
| | |
| --- | --- |
| "In the first half of 2014, we either closed or put under contract approximately $350 million worth of real estate in Brooklyn. Our goal is to almost double what we did last year." | |
What are the best neighborhoods for sales in Brooklyn right now?
The greater Downtown Brooklyn area that includes the brownstone neighborhoods around it, the north side of Williamsburg and Park Slope. What's nice about where we are in the market right now [is that] these markets are maturing in rent. Once [residential] rents are getting to the $65 a foot range, they compete or sometimes they're a little more expensive than some neighborhoods in Manhattan. The north side of Williamsburg is more expensive than the Upper East Side. You see the secondary tier of neighborhoods—primarily Bed-Stuy, Crown Heights, North Crown Heights, Bushwick—kind of catching up with that market.
Another thing that's very interesting for where we are in the market right now is that of 13,000 units under development, in the different stages of the development pipeline, only about 1,000 are condos; the rest are rentals. And we think that we're about to see the beginning of the next condo boom. Condo pricing in the primary neighborhoods I just mentioned have gone up tremendously just because there's no inventory. We think the market is about to change as a result of it. Prices of land are going to adjust to fit condo pricing more than rentals.
Do you think we'll ever see a day when Brooklyn rents match those in Times Square or on Madison Avenue?
We're actually in the process of really expanding our retail leasing division and hiring a couple senior retail leasing agents because we believe that's the next stage of development in Brooklyn. You see a huge demographic shift in these neighborhoods—first residential now retail—because retail is going to have to come up to cater to these new demographics in all these neighborhoods. So places like Bedford Avenue in North Williamsburg have really been exciting places to watch in terms of the retail. We sold a [4,250-square-foot] building on Bedford Avenue for about $1,870 a foot. It was a pure retail play. The address was 132 Bedford Avenue. [The buyer was RedSky Capital.]
What's your response to Brooklyn residents who say they're worried they'll be priced out of their neighborhoods?
From our perspective, we handle the commercial side of development transactions. So we have to deal a little bit less with that. At some points in the rezoning it was a little bit out of context and then City Planning fixed some of it. I feel like most of the stuff we're seeing in Brooklyn is very contextual and it's actually improving each and every neighborhood. And while we understand—obviously the city has a big initiative of making sure there's some form of affordable housing—if you really look at the size and the amount of undeveloped areas of Brooklyn, which is something that City Planning is now working on, there's still plenty of opportunity to create housing and some of it is going to have to be affordable. And I think the development community as a whole has been very receptive to the idea that affordability has to be a part of what they create in a large-scale project.
What does contextual rezoning look like and when was it not as contextual?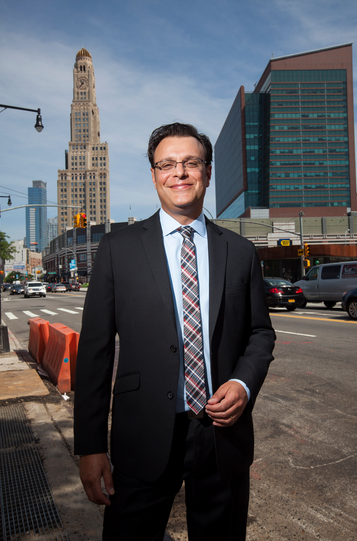 [City Planning] rezoned Fourth Avenue and there's two mistakes that they did initially and then they fixed them. They acknowledged these mistakes, so it's not some secret. The first mistake was that they didn't force the developers to put retail facing Fourth Avenue. So developers built these big residential condo buildings and put the entrance of the parking garage in front, which is very not pedestrian-friendly and very ugly. And they fixed it a few years later. We sold some of the largest transactions on Fourth Avenue and all these sites are going to have to have a big retail component facing Fourth Avenue as a result of the adjustment of the commercial overlay in the district that City Planning put in.
The second one was that, initially, when they upzoned the avenues, they didn't really think, "Well, what's going to happen with the side streets?" And then two or three years later, both on Fourth Avenue and in North Williamsburg, they realized they needed to downzone the side streets and keep the high density on the avenues. I think that after a big wave of these rezonings, City Planning and the development community have become much more sophisticated about these things. And I think that the developers right now are much more in touch with keeping whatever they develop within not just density context but also authenticity context, because they feel like people who are moving into these neighborhoods are looking for an experience.
It's kind of exciting to be in an era where people actually develop nice products. This has been sort of like the second development boom in Brooklyn. A lot of people learned from a lot of mistakes that they made both on the business side and the development side. I think it's kind of exciting to be a part of a much more educated and more sophisticated wave of development.
What has Barclays Center done for Downtown Brooklyn?
We just signed two leases in this neighborhood [including Doughnut Plant and a lease for Brooklyn's first Patsy's Pizzeria]. Obviously the Barclays Center was a huge success. As soon as it opened, most people that were opposed to it realized that it was a great thing for Brooklyn. It's a great thing for the city.
From a retail perspective, we've seen retail rents triple right across the street and double as you go further out. Shake Shack is about to open any day now right across the street and there's a couple new restaurants that are coming. We live in this neighborhood and we've been here through the development. We think it's all positive change. The economic vitality of the neighborhood improved so much that it's just a very exciting place. If you're talking about context, here what is really nice is that landlords have been very aware and thoughtful when they think about what kind of restaurants they rent. They want to make sure that these are things that people in Brooklyn or people that come to Brooklyn are coming for. So I think you're going to see a lot of restaurants and you're going to see a lot of retail but you're going to see less chains and less national outfits and more higher-end boutique-style outfits.
| | |
| --- | --- |
| "Obviously the Barclays Center was a huge success. As soon as it opened, most people that were opposed to it realized that it was a great thing for Brooklyn." | |
You served in the Israeli Defense Forces 25 years ago. How has that helped you in the real estate arena?
I think that you can get, very early on, a lot of discipline from it. And for me personally it was my first time to have a team and manage people. When I started the company and as we develop the company, we designed our structure in team clusters and a lot of that methodology sort of started in the army. But it's been a long time. A lot of things happened in between.
When did you move to the United States?
I grew up in Israel and I moved here about 18 years ago.
Where in Brooklyn do you live?
I live a few blocks from [the firm's office on Pacific Street in Park Slope.] I live in Prospect Heights.
Update: This story was changed from its print version to reflect the lease announcement for Patsy Pizzeria's first Brooklyn location.