Stonehill & Taylor to Design Garment Center Dream Hotel
---
---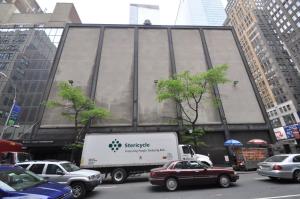 New York-based architecture and interior design firm Stonehill & Taylor has been selected as the architect of record for the $300 million-plus 120,000-square-foot retail center and Dream Hotel to be erected at the site of the Garment Center Congregation, Commercial Observer has learned.
While the firm will design the exterior and interior of 205 West 40th Street, also known as 560 Seventh Avenue, the partners on the project, MHP Real Estate Services, Soho Properties and hotelier Hampshire Hotels Management, are expected to bring on an interior designer, a source with knowledge of the contract said.
"We are thrilled to be working with the award-winning team at Stonehill & Taylor," said Sharif El-Gamal, the chairman and CEO of Soho Properties, in a prepared statement for CO. "Their collaborative approach to design has produced internationally acclaimed boutique hotels, including the NoMad, Crosby Street and Refinery hotels in New York. Stonehill & Taylor has also created prototype designs for new brands for some of the world's largest hospitality flags, and is a welcome addition to the design team for 560 Seventh."
In order to tear down the ground-floor Orthodox synagogue, the developers agreed to find and build a space to temporarily house the synagogue within the Garment District before moving the synagogue back in. The building is expected to be torn down by December and preconstruction is slated to be finished a month or two later.
There are about 20 sites that are suitable for the temporary synagogue home, and the developers are negotiating with one right now, the source said.
The new development will include 235 hotel rooms and a 17,000- to 20,000-square-foot retail condominium on the first and second floors. The asking price for the retail space is in excess of $100 million.
The trio announced in April that it bought the the property on April 4 from Parsons The New School for Design for $63 million. The school recently occupied the building.
MHP declined to comment.