Soho's 375 West Broadway Sells for $119M [Updated]
---
---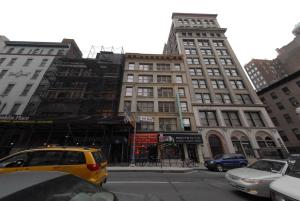 Just about a year after buying 375 West Broadway for $81 million, Real Estate Equities has sold the Soho property to Pearlmark Investment Advisers on behalf of a client for $118.9 million, according to property records.
The five-story property, between Broome and Spring Streets, is comprised of 56,000 square feet, with women's clothing, accessories and home furnishings store Anthropologie occupying the entire retail space—11,200 square feet on the ground floor (plus 7,000 square feet in the basement). Square, a San Francisco-based startup that makes mobile-payment processors, will be operating out of 42,000 square feet on three floors after it finishes building out its space, said Michael Miller, the CEO of Real Estate Equities.
A source with knowledge of the deal said the Square deal "really set the table for a sale."
"I think Square helped the sale," Mr. Miller said.
Douglas Harmon and Adam Spies of Eastdil Secured marketed the building, as the New York Post previously reported. Dirk Degenaars and Ryan Kruzel of Pearlmark were the lead executives on the transaction, a spokeswoman for the firm said. Pearlmark acquired the property on behalf of one of its clients, who asked to remain anonymous.
Pearlmark, which has its headquarters in Chicago, didn't immediately respond to requests for comment. Mr. Spies said he and Mr. Harmon had no comment.
The deal closed on June 12 and was recorded yesterday in city records.
Update: This story was edited to include a comment from the CEO of Real Estate Equities and some information from Pearlmark.