Gene Spiegelman Talks Deals, Rents and Manhattan Retail's Future
---
---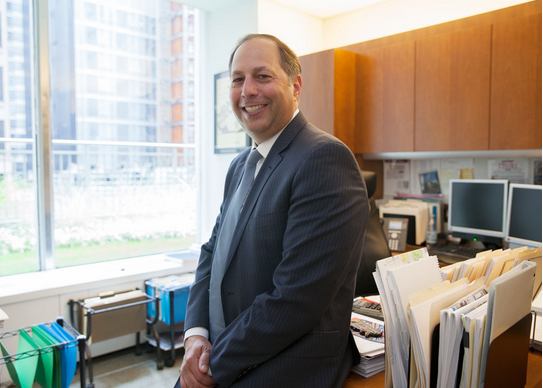 Gene Spiegelman, a vice chairman of retail services at Cushman & Wakefield, was the firm's leading retail producer for five separate years, and he's won the Real Estate Board of New York's Retail Deal of the Year award twice during his 28-year career. Mr. Spiegelman is a veteran of the Manhattan retail market, but his team most recently made news in late April with the announcement of a four-floor, 112,000-square-foot lease for Irish retailer Primark in the Downtown Crossing neighborhood of Boston. Commercial Observer visited Mr. Spiegelman in his seventh-floor office at C&W's Midtown headquarters to hear about his career and thoughts on the market.
Commercial Observer: How long have you been here at C&W and what's kept you here for that tenure?
Mr. Spiegelman: When I joined the company 14 years ago, there were effectively three or four people in the United States who were in retail for Cushman & Wakefield. It was a nonexistent business. I felt, as I described at the time, the elevator had gone to the top floor here a long time ago with respect to its core businesses of office leasing, and [it] came back down to the ground floor [regarding] retail leasing. And I saw a great opportunity here. They told me they had nothing. And at that point they really did have no infrastructure for this business, certainly at the national level. There was a pretty solid business in Europe at the time, but not in the U.S.
In almost 14 years, we have built collectively what we believe to be the best urban retail platform—certainly from a corporate real estate perspective—in the United States, with a leading group of people here in New York. It's been a great endeavor, and I have a very special connection to the company.
When you look back over your career, do you keep some running record of all the deals you made?
Those three drawers over there and the three drawers on the other side have every closed deal I've done at C&W in 14 years. From a counting perspective, we average 35 deals a year coming out of my team. We've had years where we've done 50, we've had years where we've done 25, but it's been a 35-deal average. I would say, in my career, I've probably done 800 or 900 deals or something to that effect, big and small. It's all bread and butter. You've got to keep volume going. The key to staying viable in this business is you always have to have the baseline of the volume. If you just sit there and wait to go whale hunting every year, some years you catch them and some years you don't. And you want to avoid a drought.
How did the Boston lease come to be?
One of the projects that [Millennium Partners] undertook was the redevelopment of the former Filene's department store building in Boston, which was the historic Downtown Crossing site. The core building that exists there is a 100-year-old building that was designed by a noted architect, Daniel Burnham. It opened in 1912, specifically built for Filene's.
This year the project team successfully leased 100 percent of the retail space in the building, which was anchored by a 112,000-square-foot lease to a company called Primark, out of the U.K. It's actually an Irish-based company. It's a 270-store operation in Europe, and this deal was very notable because it was their first location they committed to in the United States. It was a significant chunk of space they leased. It affirms what the project goals in Boston were really: to reinvigorate the historic part of the city.
Do you ever get amazed reactions when a potential tenant hears about rents of $2,000 or $3,000 per square foot in prime Manhattan locations?
We always did, whether it was $500 per foot or $1,000 or $1,500. At every stage of the game we always see that reaction. But fast-forward to today. New York City, Manhattan in particular, operates in a global-market context. It operates in the context of New York, London, Paris, Tokyo, Hong Kong, Shanghai and other global cities. New York is at the top of that list. It is the No. 1 destination on people's lists of places to come. When we have 52 million or 54 million visitors a year coming to New York, of which 11 or 12 million … are international, you cannot underestimate the marketing value to global retailing. We take it for granted because retailing for us is an everyday event and it becomes mundane. But for people in many parts of the world, it's not a mundane opportunity, and they don't have access to the depth and breadth of retailing that we have in the United States. When they come to New York and they see it and retailers are on full display and the brands are on full display, they get very excited about it. And it's evident in the value that retailers place on the brick-and-mortar operation and the branding opportunity.
When you have a retail brand that has a multibillion dollar-a-year business and they have an advertising budget that can be $100, $200, $300 million dollars a year and they look at the revenue associated with the brick-and-mortar store, yeah, many of these stores are operating at a loss that they then allocate toward retail operations, or they'll allocate it to marketing and branding. Now, historically, there are many stores here [that] have done well paying increasingly high rents because they do extremely high volume. So at a minimum, even if they break even, it's a win. And there are companies that are out here who make money in these stores, too. It's a myth to say that everyone loses money; it's a myth to say that everyone makes money. People are in at different times of the equation. If you're entering the market today and you're paying $3,000 a foot, you have to believe that there's a branding element and cost accounting attached to that. You have to. But it's a finite territory we're talking about—Fifth Avenue, Times Square, Madison, elements of Soho—very finite.
You mentioned before this interview that West 57th Street is the most undervalued retail street in Manhattan. What did you mean by that, and what do you see developing there?
It's the major east-west thoroughfare that cuts through the heart of Midtown, particularly for the stretch from Fifth Avenue out to Broadway. It's always been no-man's-land. It's just never materialized in terms of the way people always thought you could achieve better tenants or higher rents. It has access to transportation, and there's heavy pedestrian foot traffic. It straddles the business community, the hotel base and the residential community. On the west end, at Columbus Circle, I think it's the third busiest subway stop in New York, with over 22 million transit riders a year. And obviously, putting a major retail component there with Nordstrom will be a game changer.
The west side of Manhattan has never to my knowledge had a department store other than Century 21, which I did in 2010 at 66th [Street] and Broadway. I just believe that the owners are looking at it. People who are holding real estate are looking at it. There will come a wave of leasing along West 57th Street. It will be in stages. But you'll start to recognize that West 57th is as valuable as East 57th Street. And that is just this great opportunity that's sitting out there. It's not going to be easy, because there's fractured ownership, it's an urban streetscape, there's timing involved and not all the spaces fit with what retailers want. But long-term, as far as one single street in the core of Manhattan, it's begging to get better.
Who do you think is the better broker, you or your brother [Lee Spiegelman of Ripco Real Estate]?
That's a great question. I'll tell you my brother and I do different things, but, being the older brother, he taught me everything I know. So I'll leave it at that.