Retail Corner Across From Harlem USA on Market
---
---
Douglas Elliman's Retail Group is marketing a 3,000-square-foot corner retail space across from Harlem USA at 285 St. Nicholas Avenue, Commercial Observer has learned.
The unit boasts 135 square feet of wraparound frontage and approximately 1,500 square feet of basement space. Asking rent for the space is $90 per square foot.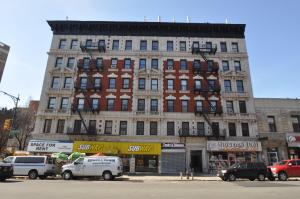 "This is the Harlem version of Main & Main, and it comes with astounding double frontage and space," said Faith Hope Consolo of Douglas Elliman in a prepared statement. "Not only does St. Nicholas Avenue span three neighborhoods that include the 125th Street retail corridor and one of the busiest subway stations in the city, it all but intersects Columbia University. So the sky's the limit with possibilities and the kind of traffic the right business will generate."
As reported by Commercial Observer, retail development along West 125th Street has historically outpaced the East Side. At the forefront of that growth was Harlem USA, a 285,000-square-foot retail and entertainment complex that opened in 2000.
Ms. Consolo, along with partners Joseph Aquino and Arthur Maglio, has introduced a number of tenants to Harlem in recent years, including both Tribeca Pediatrics and H&R Block.