New York City REIT Makes Deal for Hit Factory Retail Condo [Updated]
---
---
American Realty Capital's New York City REIT has agreed to acquire a retail condominium at 421 West 54th Street from Sagamore for $7.25 million, the real estate investment trust announced yesterday. The 12,327-square-foot unit is 100 percent leased to the Gibson Guitar Corporation.
Known as The Hit Factory, 421 West 54th Street once housed a famous recording studio of the same name. The building has since been converted to residential condominiums, where Carmelo Anthony, the New York Knicks' star forward and soon-to-be free agent, and comedian Tracy Morgan have rented, according to reports.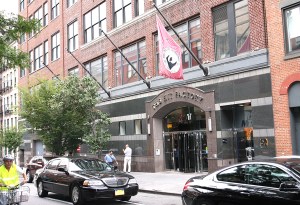 Eastern Consolidated's Adelaide Polsinelli marketed the retail condo for sale with an asking price of $8.7 million.
"This is a much in-demand location with a high profile credit tenant," Ms. Polsinelli told Commercial Observer in an emailed statement. "Gibson Guitar, an internationally renowned tenant, has been here since the early 2000's and its commitment to the neighborhood made this the perfect deal for [American Realty Capital]. Gibson's steady roster of hip and cool customers was a great value-add."
Gibson Guitar's lease for the basement and ground-floor space expires in 2021. The company is paying in the mid-$50s per square foot for the ground level, Ms. Polsinelli said. Annual rent for the space is based off of Consumer Price Index increases and the tenant is responsible for all expenses, including repairs and maintenance, according to Eastern Consolidated's listing.
Update: This story has been updated to include revised information about the tenant's lease and a quote from the sales broker.