Minute by Minute at the REBNY Deal of the Year Awards
---
---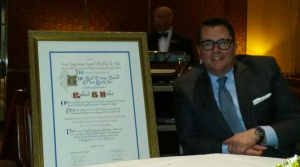 The Real Estate Board of New York doled out prizes for the Most Ingenious and Most Significant Retail Deals of 2013 in a ceremony at Club 101 at 101 Park Avenue last Tuesday night, and Commercial Observer came out to sample the open bar, scope the 18 nominees and gather snippets from the 250 brokers and insiders who showed up for the event.
5:32 — CO asks Roberto Camacho of Buchbinder & Warren Realty Group, a Deal of the Year nominee for "A chocolate factory is born in Brooklyn—Brooklyn Army Terminal," if he thinks he's going to win. "Of course," says Mr. Camacho. "Did you think I was going to say 'No'?"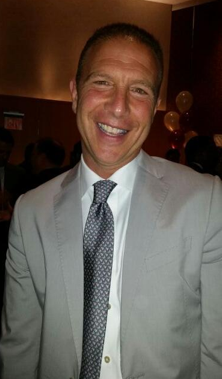 5:40 — A broker keeps turning down the starch-uniformed waitstaff's offers of heavy hors d'oeuvres like stuffed mushrooms, oysters Rockefeller and gazpacho. "I have a dinner after," he shrugs.
5:50 — James Wacht of Lee & Associates fails under fire about his Twitter handle. "I don't know," said Mr. Wacht. "This is all too much detail."
5:56 — David Green of Cushman & Wakefield says he wasn't allowed to be nominated for the night's prizes. He took home second place honors at REBNY's Sales Brokers Committee Awards last month for a master lease at 650 Fifth Avenue for SL Green Realty Corp. and Jeff Sutton. "I was in the other one," he explains.
6:01 — CO avails itself of a buffet dinner of lamb chops, baked ziti, field greens and asparagus.
6:03 — Dinner being finished, CO indulges in a second Absolut and soda served in a wineglass.
6:11 — Peter Braus of Lee & Associates starts the program by introducing himself as REBNY's Retail Committee chair "for the next 10 minutes." Andrew Mandell of Ripco Real Estate will replace him as the head of the committee.
6:18 — Richard Hodos of CBRE wins the award for Most Ingenious Retail Deal of the Year for brokering Ralph Lauren's lease at 711 Fifth Avenue. "He spent years trying to convince a skeptical board of directors to do it," Mr. Braus tells the audience. "He also had to convince the tenant to pay an astronomical rent."
6:24 — Peter Ripka of Ripco wins Most Significant Retail Deal of the Year for the return of Barneys to a retail condo at 107 Seventh Avenue. "When the space became available, the broker cleverly placed an ad in Women's Wear Daily," Mr. Braus says.
6:34 — Eileen Spinola, REBNY's senior vice president, says she doesn't envy the four-member REBNY panel that picked the winners of the sought-after awards from the field of 18. "Judging is not a picnic," Ms. Spinola says.
6:39 – The winning Mr. Ripka is surrounded by back slaps and celebration hugs, but he says he'll need to leave soon to take his wife to their 25th anniversary dinner at the Four Seasons.
6:44 – Mr. Hodos accepts CO's congratulations for winning the award and discloses that the process of inking the Ralph Lauren deal felt like a grueling Olympic event. And, he says, "As you can tell, I'm not an Olympic athlete."
6:50 – Jamie McShane, REBNY communications director, gamely poses for a picture of him wearing a suit with a cast on his right foot. He calls himself the "walking wounded."
6:57 – CO ambles over to the dessert table and scarfs down a cannoli and a fruit tart. The bartenders make the last call, but most guests have already left. Those remaining split off into tipsy conversation cliques.