EDC Investing $15M at Brooklyn Army Terminal
---
---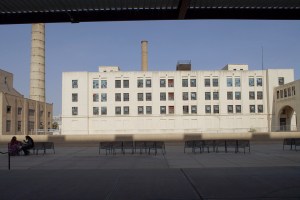 The city's Economic Development Corporation will be spending roughly $15 million to renovate the 55,000-square-foot administration building at the Brooklyn Army Terminal in Sunset Park, Brooklyn, Commercial Observer has learned.
The undertaking marks the first large-scale strategic investment EDC is making with its own funds in a building it manages on behalf of the city, Kyle Kimball, the president of EDC, said, and it is the only agency-managed building EDC has on tap to improve.
EDC has nearly 200 buildings and 60 million square feet it owns or manages for the city, including about two dozen the agency owns outright.
The agency allocated the funds at the end of last year for the project and has just issued a Request for Proposals, or RFP, for a construction manager, said Mr. Kimball, who was ranked in CO's recent annual Power 100.
"We are strategically investing in the asset, to improve our cash flow, which can then be reinvested into the asset," he said. "Right now, the asset is producing neither cash flow nor, more importantly, jobs."
The administrative building is part of the four-building, 4-million-square-foot industrial Brooklyn Army Terminal. Last month the mayor announced plans to spend $100 million to bring up to code for leasing 500,000 square feet of uninhabitable space in Building "A," which is otherwise occupied. Building "B" is fully occupied by tenants. And the fourth building, the boiler building, is vacant with no plans to bring it online.
A few tenants at the Brooklyn Army Terminal, with an address of 140 58th Street, are sweets maker Jacques Torres with a 39,500-square-foot chocolate factory, as CO previously reported, creative e-commerce and catalog company UncommonGoods and eco-friendly and sustainable furniture brand Urban Green.
The four-story landmarked administration building has been vacant since at least the 1970s and EDC wants to gut renovate it and turn it into funky office space or convert it for use by modern manufacturing tenants.
EDC's investment "is a recognition that some really important things are happening in Sunset Park," Mr. Kimball said. "We are preserving and increasing space for manufacturing." In addition, the project will generate temporary and permanent jobs, he said.
Rents in the administrative building could match those in the rest of the complex, where they are $10 per square foot, or exceed them, "depending on the space," Mr. Kimball said.
He hopes to break ground on the project—which entails mostly an interior renovation—this year and be finished in a couple of years.