Developer Hopes to Close on Clinton Property, Go Residential
---
---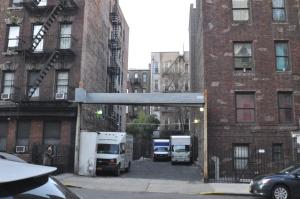 New Empire Real Estate Development wants to erect a six-story (plus mezzanine) residential building at 409 West 45th Street, according to an application with the Department of Buildings.
The 66-foot tall, 12,172-square-foot building between Ninth and 10th Avenues will have 11 units, according to plans the Brooklyn-based company filed with DOB and project schematics.
Before New Empire Real Estate Development proceeds, the company has to close on the purchase of the vacant lot from Zacharias Equities. The closing is scheduled for Aug. 30, according to the lone broker in the deal, Samuel DeFranceschi of Nest Seekers International.
Mr. DeFranceschi listed the property for $4 million about two years ago and ended up bumping up the price to $5.3 million as of Feb. 17. He didn't want to disclose the sale price since the deal hasn't yet closed.
Bentley Zhao, the founder of New Empire Real Estate Development, wasn't available for comment.