Chinese Firm Gets Financing for Brooklyn Condo Without J.V. Partner
---
---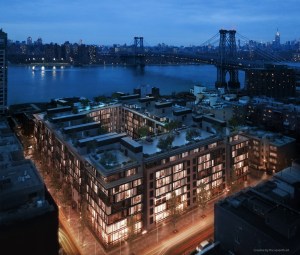 A major Chinese investment firm has secured a loan from a U.S. lender to develop a large-scale residential real estate project in Brooklyn. But Xinyuan Real Estate Co. is taking a different tack from that of many foreign investors that have developed real estate in New York City: It is proceeding without a U.S.-based joint venture partner.
Xinyuan, through its U.S. real estate arm XIN Development, plans to build a seven-story condominium development in South Williamsburg, to be called Oosten, according to a representative for the firm. The project nabbed a $165 million loan from New York-based Fortress Investment Group, according to data provided by the real estate services firm Real Capital Analytics. Fortress did not respond to a request for comment.
Xinyuan is using $85 million of its own equity to help cover the full cost of the $250 million project, Omer Ozden, executive director of acquisitions and finance for Xinyuan, told Mortgage Observer.
Borrower Xinyuan is listed on the New York Stock Exchange and invests heavily in Chinese residential real estate. The Williamsburg development is its third acquisition in the United States and its first in New York, according to SEC documents. Xinyuan's U.S. operations are based in the Cayman Islands.
The firm finances many of its projects in China with capital obtained through pre-sales, which can close prior to the conveyance of deeds according to Chinese law. New York State law does not allow a sponsor to receive proceeds prior to closing.
Xinyuan bought the two-acre development site for just over $54 million in September of 2012, through a foreclosure, from Richard Kalikow's Manchester Real Estate and Construction, records show.
"We believe this is the first time a mainland Chinese developer has developed a major project in the United States without a U.S. J.V. partner," Mr. Ozden told Mortgage Observer.
"From a developer's perspective, you look for partners because you need equity or because you're an international player and you don't know the local market or local laws and restrictions," said Wendy Cai-Lee, executive vice president and head of Eastern and Texas regions at East West Bank, which specializes in transactions involving U.S. and Chinese parties. "If a company believes that they have put together a very good local team that has development experience, they don't need a J.V. partner," she added.
Which is where Mr. Ozden comes in. He holds a J.D. degree in the U.S., divides his time between New York and Beijing and is fluent in both English and Mandarin.
An advertisement for the development on the popular Chinese real estate website Soufun shows a rendering of Oosten and lists unit prices starting at $740,000. Ozden insisted the ad was unrelated to Xinyuan's marketing efforts and spoke only in general terms about pricing.
"In China, there is a major demand for units in the price range of RMB10 million to RMB30 million. That's approximately $1.5 million to $5 million per unit," Mr. Ozden said. "We can sell those all day long in the dozens, and even hundreds, of units."
The median condo sale price in Brooklyn for the first quarter of 2014 was $520,000, according to a report by residential brokerage Douglas Elliman.
The development straddles the edge of an area with a large Hasidic population and another undergoing one of the city's biggest residential construction booms. The units are being marketed primarily to savvy U.S. buyers, according to Mr. Ozden, but he noted that Xinyuan's presence in China gives it access to a pool of potential Chinese buyers.
"We are not seeking to sell our product to Chinese," Mr. Ozden said. "The availability of a unique market in China that we have proprietary access to is more of a finance play than anything else."
In general, though, Chinese immigration to certain areas dovetails with local real estate investment, said Ms. Cai-Lee.
"If you overlay a map of the U.S. by economic growth with a map of growth in Chinese-American residents, then add one with commercial and residential real estate investment growth and interest, all the maps would match," she added.
The Dutch architect Piet Boon was commissioned to design the project, which takes up a full square block near the Williamsburg waterfront.
Renderings show the seven-story building with rooftop gardens, some private yards and a large enclosed common courtyard. The development will include configurations larger than typically found in the area, ranging from one to six bedrooms and between 686 and 5,098 square feet per unit, according to Halstead Properties, which is handling sales for the development.
The name, which means "east" in Dutch, is a nod to New York's early Dutch history, a reference to the building's Dutch design, and it hints at its location just east of Manhattan and near the banks of the East River, according to Mr. Ozden. The integral role of equity "from the East" also influenced the choice of name, Mr. Ozden said.