SCG Retail's Chase Welles Talks Whole Foods, RECon and Tinder
---
---
Retail pro Chase Welles is a man with a mission. The executive vice president of SCG Retail represents some of the biggest tenants—Whole Foods, Kohl's, LA Fitness—and is always looking for new locations for them. He and David Firestein owned Northwest Atlantic until a couple of years ago when the company merged with the Atlanta-based Shopping Center Group. Today, the duo owns 90 percent of what became SCG Retail, the Shopping Center Group's New York division. On the week of the International Council of Shopping Centers' RECon in Las Vegas, Commercial Observer sat down with Mr. Welles in his Columbus Circle office to chat about his Williamsburg Whole Foods deal, Tinder and boating.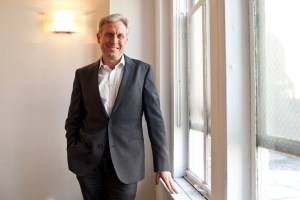 Commercial Observer: You and Jacqueline Klinger were nominated for a Retail Deal of the Year Award by the Real Estate Board of New York for the Whole Foods deal at 240 Bedford Avenue in Williamsburg. We have heard rumors about trouble there, namely that Whole Foods pulled out of the site.
Mr. Welles: It is happening. There was trouble. The landlord and the tenant were unable to agree on delivery conditions, which was a lease contingency. That disagreement led to a lease termination, which has now been resolved. Whole Foods is in fact expanding the premises. And now the landlord and the tenant are getting along so well I think we're going to take even more space—another 10,000 square feet adjacent—and make it 40,000-something feet. It was the roughest deal I've done by far.
We also heard that a Fairway or Trader Joe's was slated to replace Whole Foods.
I can't comment on that.
What's the asking rent there?
That's an interesting question. It's varied. One of the reasons the deal was so difficult was because the market there was shifting so quickly. The asking rents in the area for similar space now are approximately $200 a foot at grade and $80 below. Our deal is a lot less because we did it a long time ago.
What's going on with the Whole Foods at 100 West 125th Street at Lenox Avenue? It's been reported that the market will occupy 39,000 square feet on the ground floor and lower levels of the five-story building, while a Burlington Coat Factory will take the top three floors. Will there be a residence or hotel on top?
That should open in two years. It's just a retail building.
You told Commercial Observer in 2012 that Robert Quinlan, your boss and mentor at Walker, Molloy & Company through your 20s and 30s, made "intelligent decisions quickly." What's an example where you have done this?
It's very hard for a real estate broker, someone who works on these long-term transactions, to be able to look back and say, "This decision was made particularly quickly," because everything takes forever. But what I can do—quickly—is throw the chaff out from the wheat and say, "This will not work." I met on a site plan today of a site in Jersey City where I immediately saw that the developer was going down a path that Whole Foods would not accept. I have a very good eye for design and flow.
Is that the first Whole Foods location in Jersey City?
We're all over Jersey but not Jersey City.
How much of your business is tenant rep versus landlord rep?
It's 80 percent tenant rep at this point, but I have a couple of really big projects [in the boroughs] that I'm working on that will tip that much more in the landlord's favor.
You were named the head of REBNY's retail committee, a three-year chairmanship you completed in 2012. What was it like serving for REBNY?
I really enjoyed it. It was exciting to try and reinvigorate this group of brokers and landlords who were so unhappy because of the recession. I had the group during the worst years. I managed to grow the membership. I think we went from 65 people to 80 people or something like that [on the committee]. I don't know exactly. It's a great clearinghouse for information and group of retail brokers, even though it's a sharp-elbowed, bloody-nosed group—we fight together, we work together, we party together. We work well together. It's not like other groups of brokers that don't work well together.
Who's the city's top broker? You told us in 2012 that it was Jeff Winick.
Boy, did I get a lot of shit for that. But I would say Jeff Winick. Winick is a guy I personally chase—I personally like Jeff Winick, because he tells me what the story is.
Do you ride your bike to work?
I ride my bike around Nyack, where I live. I don't use my car very much if I can help it.
Are you a green person?
I was on the board of Clearwater, the environmental organization, for a long time. I've been tinted green for most of my life. I eat kale every day.
You were part of a group that bought the retired 130-foot 1931 FDNY John J. Harvey fireboat at auction in 1999. Why did you buy it?
[My friend and I] had a wooden boat. In a partnership dispute with a third partner, he sold the boat. We were heartbroken. John, who owned Pier 63 [home to the John J. Harvey fireboat], convinced us to bid on the fireboat. Much to my chagrin, we won.
And you used the fireboat to help recovery efforts after the World Trade Center attacks in 2001.
We took the boat down there. We pumped water from the river to the fire fighters. They hooked up to our firefighting equipment and pumped water for days.
What is your ICSC strategy?
I'm almost completely booked all the time with existing tenants and meetings to solidify current deals and take a look at new ones. I also make it a point to go to Lotus of Siam. It's the best Thai restaurant in the country. Also, there are S&M clubs there.
Will you go to the S&M clubs?
That's not my bag, baby.
Do you plan to …
Use Tinder out there?
Yes.
No. I'll leave it at home. Plate's full anyway. I can't imagine what you get on Tinder in Vegas.
Chase Welles
,
ICSC
,
Jacqueline Klinger
,
Jeff Winick
,
Las Vegas
,
S&M
,
SCG Retail
,
Tinder
,
Whole Foods Market
,
Williamsburg
,
Real Estate Board of New York