As deals continue to be signed by high-end retailers at the World Trade Center and Brookfield Place, the focus of New York retail leasing is firmly on lower Manhattan. But on the Far West Side, a 750,000-square-foot retail component is set to debut as part of the ambitious Hudson Yards development.
So far, only Fairway Market has officially committed to space at Hudson Yards. But with talk of a major department store being in negotiations, the acceleration of leasing is surely right around the corner.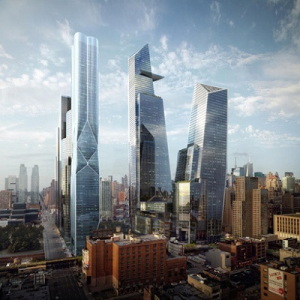 "It's a game changer," said Geoff Bailey of SCG Retail. "They're going to have residential and office tenants built in, and there's no reason to think they won't get tourist traffic as well."
Fairway's 46,000-square-foot deal at Hudson Yards' South Tower broke the ice, but a rumored deal for Neiman Marcus could truly shift the tide. The Dallas-based department store's tentative 200,000-square-foot deal, first reported in March by the New York Post, will kick off landlord Related Companies' competition for high-end retailers.
Retail brokers told Commercial Observer that Related's deal with Neiman Marcus is close to being done. A spokeswoman for Related declined to comment on the status of the deal.
Assuming the Neiman lease becomes official, it could spur more interest in retail at Hudson Yards, which until this point has trailed its rivals in velocity.
"People want it to see it be more real, they want to see Neiman signed, and they want to see more tenants make a commitment," Mr. Bailey said.
"Neiman Marcus would be the platform. You cannot discount the draw of a department store," added Faith Hope Consolo of Douglas Elliman's retail group. "That would be the home run."
Brokers anticipate the tenant mix to fall somewhere between mid-range and luxury. Zara, LVMH brands and Richemont's group of retailers are said to be among those in talks for space. Coach could also add a retail location to its 740,000-square-foot office space at Hudson Yards.
Talk of rents varies and the final numbers are likely to be deal-specific based on the brand, amount of space and, ultimately, Related's desire to close a particular transaction, brokers said.
Competition for tenants is fierce, with new retail developments popping up all over Manhattan, particularly in the Financial District, at Brookfield Place, the World Trade Center, Fulton Center and the South Street Seaport. But brokers say it's not unrealistic to expect some high-end retailers will have a presence at more than one of the several transformative new hubs.
Another challenge to luring top flight retailers could be Hudson Yards' location in a currently barren stretch of Midtown's west side.
"Location is a concern that many voice," one broker told Commercial Observer. "Retailers for the most part are not pioneers; they want to go where the competition is."
The extension of the 7 subway line will go a long way toward increasing the accessibility of Hudson Yards, brokers said, but some argue it will still require a change in behavior for both New Yorkers and tourists, who most readily associate the 7 train with trips to Queens.
"The hurdle of getting people to ride the 7 is significant," Mr. Bailey said
Others eschew the claim that location is a detriment. With tourists and New Yorkers alike already traveling west to Chelsea Market and the High Line, there's little reason to believe they won't head to Hudson Yards.
"It's proven that if you build something great, they'll come," Ms. Consolo said, citing similar early reservations about Related's Time Warner Center development. "They're going for an experience. The far west is not so far anymore."