Retail on East 125th Street in Harlem Emerges from the West Side's Shadow
---
---
An employee pops his head out of a small takeout window of the McDonald's at 145 East 125th Street in Harlem.
"One dollar ice coffee, one dollar ice coffee," he shouts, loudly and repeatedly.
No one seems to notice amid the thumping of a car stereo and the persistent "toot toot" of a semi-trailer truck stuck in the midday traffic.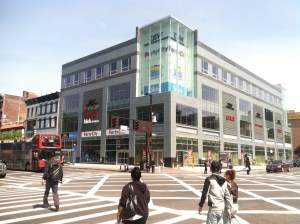 The in-your-face attitude is perhaps a better match for the east side of 125th Street, which on one sunny day last week had a decidedly more frantic vibe than points farther west, which have been quicker to develop commercially, particularly in terms of retail.
With good reason, the industry is gung ho on the east side of the street, with a number of major mixed-use projects in the works that will change the face of the thoroughfare.
"Everybody was always focused on the west side, but there isn't any land left," said Stanley Lindenfeld, a retail veteran with Lee & Associates. "On the east side, you see a lot of sites that are vacant lots or buildings, and a multitude of realtors and developers are ready to build."
The west side of the vibrant street is about as jumping in terms of foot traffic as any other in the city, with large sidewalks and modern storefronts. Though lacking a high-end or luxury component, 125th Street is teeming with national brands like Gap, Red Lobster and H&M, to name just a few, with a Whole Foods in the works.
A gradual transition from well-known to unknown brands is evident on an avenue-by-avenue basis running eastward. Beginning in the West 100s and going east, mom-and-pops like Paramount (a general store), Beauty Feel Supply, Cool Cat (jewelry) and the aptly named Hot Sexy Fit: Jeans That Fit rub alongside Marshalls and Staples.
Carry onward, and street vendors become more prevalent; the smells of the perfumes and incenses they sell waft through the air. There's an elevated police presence and more "for lease" signs.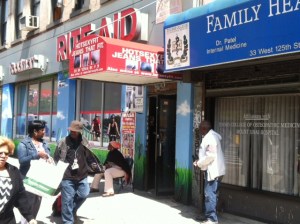 The development potential is great, but developers and retail brokerages will be keen to bring to the eastern side retail that doesn't disrupt the balance between big chains and mom-and-pops but instead brings the type of stores that the community desperately wants.
At street level, it is apparent that some degree of resentment exists as developers move in.
"Who is this bullshit for?" someone has scribbled across a "work in progress" sign plastered to the green walls that cordon off a development site at 5-15 West 125th Street, where renderings depict a glassy storefront and four mop-topped mannequins.
A tamer view on the street from residents and workers suggests that developers need to strike the right balance.
"More variety, more department stores," said Inger Callahan, 48, an East Harlem drug counselor, who yearned for brands like Kmart and Target.
Some high-end development is "part of that variety" but "not if it means driving out the mom-and-pops," she added.
Among developers moving into the east side of 125th Street are Waterbridge Capital, which plans a national retail center at 63 East 125th Street; Archstone (in partnership with the ECD), which is developing a six-acre, mixed-use project between 125th and 127th Streets and Second and Third Avenues; and Gary Barnett, who recently scooped up the Pathmark at 160 East 125th.
"We've had far more interest on the retail than we know what to do with," said Geoffrey Newman, a senior managing director at Newmark Grubb Knight Frank. Mr. Newman represented Ian Bruce Eichner in his purchase of a development site at 1800 Park Avenue, where two 32-story, mixed-use buildings will begin to rise this summer.
Mr. Eichner will ask around $150 per square foot for the retail space at 1800 Park Avenue, which could be realized by breaking the 70,000 square feet of retail space into shops no bigger than about 5,000 square feet, Mr. Newman said.
"I think the idea is you want the highest credits possible and you break up the spaces to boost the rents," he said, noting that the high rents are needed to compensate for high land and construction costs, which continue to rise.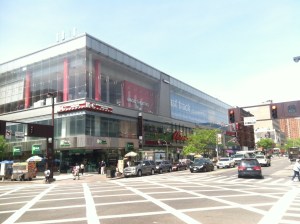 Mr. Newman believes new development will not disrupt the delicate balance that the community needs.
"The east side is really developing—and developing quickly," Mr. Newman said, "But you will continue to have an eclectic mix, and all the mom-and-pops will stay there."
The parcels currently home to the mom-and-pops are "undevelopable," he said, noting that builders cannot simply demolish the structures and rebuild because they're too small.
"You can't just plop a Starbucks in a 25-footer on 125th Street," he said.
But others said low-end retailers, like the pawn shops and general stores along east 125th, and many of the mom-and-pops, will likely not survive the increased rent environment produced as the new development projects rise.
The average asking rent along all of 125th Street is $117 per foot, according to the latest data from REBNY, but rents range across the thoroughfare range from as little as $70 a foot to as much as $300 a foot, which sources said will inevitably even out as new development pushes the limits.
"Slowly, the lower-end shops will start to go north into the avenues," said David Chkheidze, a Massey Knakal director of retail leasing and development. "Some mom-and-pops are so small that the floor plates won't make sense for them to stay anymore."
At the same time, national retailers are not the only brands brokerages and owners are willing to work with, and in some instances owners prefer local tenants, he said. Massey Knakal recently arranged a 1,600-square-foot lease at 30 West 125th Street, for Unique Hair, a New York-only brand, for example.
"We are servicing the landlords, and our job as a landlord rep is to submit all offers, and in some cases, local tenants are wining even against the national chains," Mr. Chkheidze said, adding, "In some cases, a developer wants the retailers back if they're already in place."
But it's possible that the wealthy developers moving into the area could ultimately drive even long-term owners of property along the strip out. If land and construction prices continue to soar and the market remains strong, a new precedent will be set.
"If the strength of the builders is such that they have deep pockets, you're going to have more of them following," said Henry Goldfarb, another retail veteran with Lee & Associates. "But just because they are asking $200 doesn't mean they're going to get it."
125th Street
,
1800 Park Avenue
,
5-15 West 125th Street
,
Archstone
,
David Chkheidze
,
Geoffrey Newman
,
Harlem retail
,
Henry Goldfarb
,
Ian Bruce Eichner
,
Inger Callahan
,
Lee & Associates
,
Massey Knakal Realty Services
,
Newmark Knight Frank
,
Stanley Lindenfeld
,
Waterbridge Capital