Pakistani-Owned Roosevelt Hotel Refinanced by J.P. Morgan
---
---
J.P. Morgan Chase & Co. provided a $140 million loan to refinance existing debt on the iconic Roosevelt Hotel, which is owned by the Pakistani government's state-run Pakistan International Airlines, public records show.
The 1,015-room hotel at 45 East 45th Street recently underwent a "multi-million dollar guestroom upgrade," which began in November 2011, according to the hotel's website.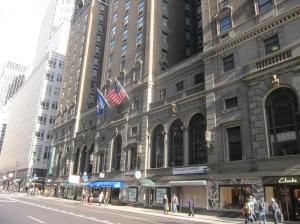 PIA acquired the hotel for $36.5 million in 1999 in a partnership with Saudi Arabia's Prince Faisal bin Khalid bin Abdulaziz Al Saud after an ongoing legal battle with the hotel's previous owner, Paul Milstein. PIA later bought out Prince Al Saud's share in 2005, taking full control of the hotel.
The Pakistani government put the hotel up for sale in 2007, with an asking price of $1 billion, and then took it off the market in 2011, due to declining real estate prices at the time, according to previous news reports.
The historic hotel, which first opened in 1924, has appeared in famous Hollywood movies including The French Connection, Wall Street, Quiz Show, Boiler Room and Man on a Ledge. The hotel temporarily closed in 1995 and reopened in 1997 following a $65 million renovation.
The loan from J.P. Morgan closed on May 9, according to city records. The hotel's owner could not be reached for comment. A spokesperson for J.P. Morgan declined to comment.