Meridian Brokers $18M Refi for Chelsea Office Building
---
---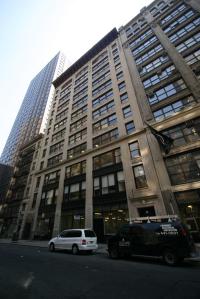 New York Community Bank just closed an $18 million mortgage backed by 114 West 26th Street, a source told Mortgage Observer Weekly. The loan will be used to refinance an existing lien, according to representatives for Meridian Capital Group, which brokered the deal.
City records show a $13 million outstanding mortgage on the building, also from New York Community Bank. The building is owned by an entity called Jal Colin Properties LLC. Representatives for the bank did not immediately return requests for comment. Jal Colin was not reachable. 
The 4.25 percent, seven-year loan has a flexible prepayment penalty. Meridian Vice President David Zlotnick handled the transaction.
"Meridian negotiated this cost-effective, long-term refinancing to reduce the borrower's interest rate by nearly 1 percent, cut the prepayment penalty on the existing financing by 1 percent and obtain $4 million in additional proceeds," said Mr. Zlotnick.
The 12-story office building, between Avenue of the Americas and Seventh Avenue, sports 88,000 square feet of office space and 7,500 square feet of retail space.