Manhattan Retail Asking Rents Up 20 Percent: REBNY
---
---
The latest Retail Report from the Real Estate Board of New York for Spring 2014 shows that average retail asking rents across all of Manhattan increased by 20 percent from last year.
The Manhattan-wide jump to $139 per square foot was notable but starkly contrasted by the booming top tier corridors. The stretch between 49th and 59th Streets on Fifth Avenue, for instance, led the pack (again) this year with record-breaking asking rents of $3,550 per square foot.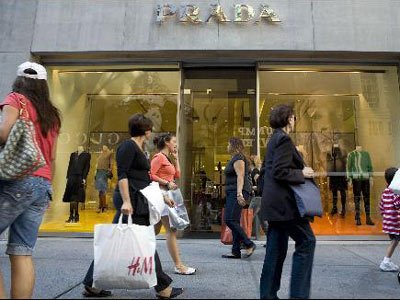 "Strong interest in prime corridors and the repositioning of other corridors resulted in strong market conditions," according to the report. "These increases are partly attributable to strong demand along New York City's major shopping corridors."
The Manhattan leader by neighborhood, both in terms of growth and dollar amount, was Midtown, which grew asking rents by 43 percent to $190 per square foot.
While prime Fifth Avenue charted the highest asking rents, growing by 16 percent, a number of other premier corridors experienced greater asking rent growth. The top performer in this category was East 57th Street, between Fifth and Park Avenues, with asking rents growing by 30 percent to $1,000 per square foot.
Other top performers: Herald Square (along 34th Street) asking rents grew by 22 percent to $888, prime sections of Broadway in SoHo (between Houston and Broome Streets) grew by 19 percent to $890, and Madison Avenue (between 57th and 72nd Streets) asking rents went up 24 percent to $1,643.
REBNY noted in the report that in corridors with low availability (such as these top performers), high quality space reintroduced to the market may skew the data in a positive direction, accounting for often wide rent ranges. The organization also noted that rents on the "adjoining side" of the top tier thoroughfares profiled "may lease for considerably less."
Some prime corridors did see declines in average asking rents nonetheless. Among them, East 86th Street, between Lexington and Second Avenues, experienced the greatest dip — of 30 percent — to $384 per square foot.
Fifth Avenue (between 14th and 23rd Streets, and between 42nd and 49th Streets) asking rents declined 6 percent. And, despite the recent revitalization of 125th Street in Harlem, asking rents there dipped by 5 percent, as they did on 14th Street in the Meatpacking District, between Ninth and 10th Avenues.