Inter Parfums Moves Forward with New Lease at 112 Madison
---
---
Inter Parfums has signed a 7,500-square-foot lease for the top floor at Samco Properties' 112 Madison Avenue, Commercial Observer has learned.
The developer, manufacturer and distributor of beauty and fragrance products – which dissolved its lucrative relationship with Burberry last year – outgrew a previous space at 1 Park Avenue and will nearly double its square footage with the move, said Robert Eisenberg of Newmark Grubb Knight Frank, who represented the tenant with Mark Weiss and Scott Gutnick of the same firm.
He noted that the tenant was drawn to the "cool space in a hip location" at the family-owned building, noting that the space benefits from abundant natural light, high ceilings and a "quality landlord" in the Smith family's Samco Properties.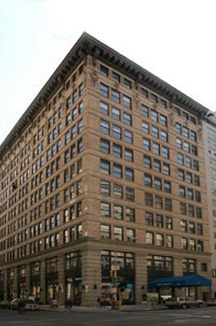 "This was very appealing and a true turnkey," Mr. Eisenberg said. "It is a nice partnership with the Smith family, who will give them a new high-quality installation."
Samco Properties, which has owned and operated buildings in Midtown South since 1959, will build out the 12th floor space (which had asking rents in the mid-$50 per square foot range) to meet the demands of Inter Parfums and will also soon commence a lobby renovation to further boost the boutique building's appeal.
Inter Parfums is expanding its space despite a first quarter that reflected the dissolution of its partnership with Burberry, with year-over-year sales and income figures declining dramatically. Net income dropped from $31.7 million in Q1 2013 to $8.9 million this year, and net sales dipped 43 percent, from $213.8 million to $121.7 million.
But net sales for "ongoing brands," excluding Burberry, fared much better, increasing 17 percent to $121.7 million from $104.1 million, the company noted in its earnings report.
"The decline in first quarter gross margin, operating margin, and net income attributable to Inter Parfums, Inc. is the result of the termination of the Burberry license," the firm's CFO, Russell Greenberg, said in a prepared statement released yesterday. "The 2013 first quarter was exceptionally profitable as we continued to operate certain aspects of the business for the brand."
Since its founding more than three decades ago, Inter Parfums has partnered with brands that include Lanvin, Montblanc, Jimmy Choo, Boucheron, Van Cleef & Arpels, Karl Lagerfeld, Paul Smith, Alfred Dunhill, Anna Sui, Shanghai Tang, Oscar de la Renta, Gap, Banana Republic and Brooks Brothers.
Josh Smith and Adam Smith represented the landlord in-house.