Forest City Entertaining Entertainment Venue for Atlantic Center
---
---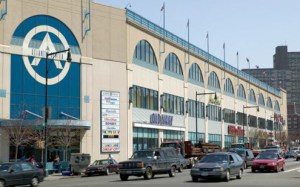 Forest City Ratner Companies is looking to lease roughly 20,000 square feet on the third floor of Atlantic Center, across from Barclays Center, to an entertainment venue, Commercial Observer learned.
Kathryn Welch, executive vice president at Forest City, told CO at the International Council of Shopping Centers' RECon, that after mulling the best use for the space, it decided a sports bar, bowling alley or restaurant would "make sense" with the evolution of the area, especially considering the space is on the difficult-to-lease third floor. The space is being marketed in-house.
Forest City owns residential air rights above the 393,713-square-foot building, at 625 Atlantic Avenue, so it considered erecting a residential property. In the near-term, Forest City wants it for commercial use. Asking rents are in the mid $50s per square foot, Ms. Welch said.
An eatery or entertainment venue could work if recent history is an indicator. The Applebee's and the Buffalo Wild Wings at Forest City's adjacent Atlantic Terminal Mall, at 139 Flatbush Avenue, "have seen a nice increase in business since the arena opened," Ms. Welch said. Barclays Center opened in September 2012.
"We believe a restaurant/entertainment use is compatible with the neighborhood that has grown up around the center over the last 18 years including all the residential that exists today and is under construction as well as Barclays Center and the expanding cultural district around [Brooklyn Academy of Music]," Ms. Welch said.
The location is suitable for a restaurant and bar, said Geoffrey Bailey of SCG Retail who has no involvement in the leasing of the Atlantic Center space.
"One of the things around there, people are trying to figure out where to have drinks or eat before an event at the arena," Mr. Bailey said.
In general, the Brooklyn leasing specialist added: "The play with the area is to feed off the arena so you can have other things to do besides just going to the events."
As for building residential at the location, Mr. Bailey said it would be an interesting proposition since Forest City is developing 6,000 apartments across the street, near Atlantic and Flatbush Avenues.