Megalith Joins With Carlyle Group, Nabs $72.5M Construction Loan For Dumbo Project
---
---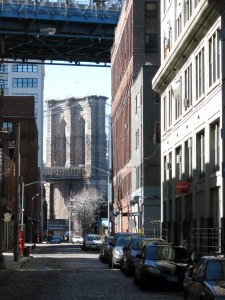 Developers planning residential conversion in Dumbo received $72.5 million in construction funds backed by three parcels from Tel Aviv-based Bank Leumi, according to records filed with the city of New York this week.
The developers are a partnership comprised of an affiliate of Washington, D.C.-based asset manager The Carlyle Group, Megalith Capital Management and developer Urban Realty Partners, a representative for Megalith confirmed.
New York-based developer and equity investor Megalith was already at work on the project—a residential rental and a condominium building—with Urban Realty. Now, they have brought in a new equity partner in Carlyle, though the amount of any equity infusion from the asset manager was not disclosed.
The plots—at 200 Water Street, 177 Front Street and 173 Front Street—were signed over to an LLC controlled by the partnership for $30.6 million earlier this week. That is exactly the amount Megalith paid last year when it bought the parcels from the Jehovah's Witnesses, a major Brooklyn landowner that has been systematically shedding assets for years now.
The new equity partner, in combination with the construction loan, will allow the group to move forward developing on the parcels, which currently hold warehouses or are vacant.
"We are pleased to have a new equity partner and construction lender as we move forward with our continued goal to create new condominium residences and rental apartments within the context of this emerging New York City neighborhood," said Sam Sidhu, chief executive officer of Megalith, in a statement provided exclusively to Mortgage Observer.
"We have assembled an impressive team led by Ari Aufgang of Aufgang Architects and these new financing partnerships come at an exciting time as we enter the next phase of the projects' development," added Shelly Listokin, managing member of Urban Realty Partners, in the statement.
At 177 Front, Megalith plans to build a mixed-use project with 105 residential rentals and retail; at 200 Water Street the developer is plotting residential condominiums, according to previous reports.
A representative for Carlyle declined to comment; Bank Leumi did not respond to a request for comment.