Brand Learning Inks New Lease at 80 Broad Street
---
---
Brand Learning has signed a new seven-year, 4,765-square-foot lease at Savanna's 80 Broad Street for a portion of the 21st floor, Commercial Observer has learned.
The marketing firm, which is relocating from Jersey City, New Jersey, has a global team of over 150 people and has supported over 120 clients in more than 60 countries across a wide range of industry sectors, with clients that include Bacardi, British Airways, Cadbury, Colgate, HP, Yahoo! and a long list of other national and international brands.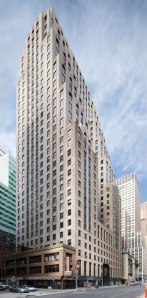 "Brand Learning was attracted to the high quality pre-built installation that was in move-in condition," Savanna said in a written statement provided by a company spokesperson. "The [open] space, coupled with very good light and water views were also very important to Brand Learning."
A string of leases have helped nearly fill the building to capacity in recent months. Most recently, in March, nonprofit Revenue Watch Institute signed a seven-year lease for a 7,255-square-foot portion of the 18th floor at the building and Indus Architect signed a seven-year, 2,240-square-foot deal.
Hal Stein, Todd Stracci, and Adam Leshowitz of Newmark (NMRK) Grubb Knight Frank represented the Savanna, while Seth Hecht of Colliers International (CIGI) represented the tenant in this transaction.
Savanna acquired the 36-story, 410,000-square-foot 80 Broad Street from Swig Equities in 2011 after taking control of the property's senior mortgage. Swig Equities had acquired the building for $70 million in 2004. The brick masonry building was constructed in 1930 and Savanna recently refurbished the property with renovated elevators, building systems and an improved lobby
Savanna declined to specify asking rents.
Lauren Elkies Schram contributed reporting