Ace Hotel Likely Coming to Downtown Brooklyn
---
---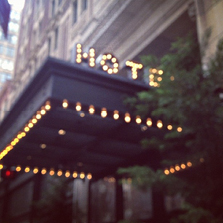 GFI Capital Resources is close to sealing a deal with the Ace Hotel to open a new lodge under its brand a few blocks away from the Barclays Center in Downtown Brooklyn, Commercial Observer has learned.
Allen Gross, president and CEO of GFI Capital Resources, has nabbed a number of parcels on Bond Street, at the corner of Schermerhorn Street, in an off-market deal, and hopes to bring a trendy Ace Hotel to the site, sources with knowledge of the deal told CO. His equity partner in the deal was Spruce Capital, which now owns a majority stake in the development site.
A couple of other hotels in the works on Schermerhorn Street include a 13-story EVEN Hotel at the intersection of Nevins Street and Holiday Inn Brooklyn Nevins Station, at 300 Schermerhorn Street, as CO previously reported.
"We think there's still a lot of room in the market for additional hotels especially brands like Ace that come with a hospitality and nightlife component," said Tucker Reed, president of the Downtown Brooklyn Partnership.
A hospitality specialist said the location is perfect for an Ace because of its proximity to the Barclays Center.
An active hotel developer, Mr. Gross is a partner in the Ace Hotel New York, at 20 West 29th Street.
GFI and Spruce declined to comment. Ace Hotel's press office declined to comment saying, "We are looking at a number of new projects including some in New York City, but we don't have anything to announce quite yet."