Zar Property Refinances Soho Office Buildings as Daily Mail Gets Ready to Relocate
---
---
Safra National Bank of New York has provided a $70 million loan to Zar Property NY to refinance the Manhattan real estate firm's three connected office buildings at 42-50 Greene Street and 90 Grand Street in Soho. The 10-year refinancing closed on April 8, public records show.
The owners recently paid for capital improvements on the five-story property, including new building systems and new lobby space. Those upgrades were completed in late 2013.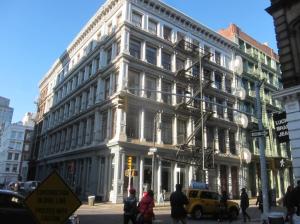 The three contiguous buildings, which contain 120,000 square feet of office space, have 10,000 square feet on the market, according to CoStar Group. The property will have another 10,000 square feet available for rent once current tenant the Daily Mail relocates this summer.
The attention grabbing British tabloid signed a four-year lease for 5,200 square feet at 42 Greene Street in February 2011 and opened its first New York office on the 4th floor to house its U.S. website team. The online tabloid later expanded down to the 3rd floor and is now getting ready to relocate to a glassier office building at 51 Astor Place in the upcoming months, the New York Observer reported this March.
Other existing tenants in the connected buildings include London-based liquor branding company Stranger & Stranger and Israeli cake maker Ron Ben-Israel Cakes.
Rents in the area have climbed within the past few years. Asking rent for the available space in the buildings, which were developed in 1900, is $85 a square foot, according to CoStar. Zar Property declined to comment.
Zar Property bought 42-50 Greene Street and 90 Grand Street from D&R Realty Corp. for $49 million in May 2008, part of a portfolio of properties. Commerce Bank financed the acquisition with a $40 million loan, according to public records.
Meridian Capital Group Vice President Isaac Filler and Managing Director Steven Adler brokered the recent refinancing from SNBNY. Meridian declined to comment on the deal, citing client confidentially.