Veracen Partners Among Pack of New Leases at 250 West 55th Street
---
---
Veracen Partners is among a set of several new tenants to take space at Boston Properties' 250 West 55th Street, signing a 10-year, 11,263-square-foot lease for a portion of the 16th floor at the 38-story tower.
CBRE, which represented the landlord, announced the lease concurrently with a 7,196-square-foot deal with RTW Investments & LifeSci Capital and a 4,806-square-foot Coltrane Asset Management lease. All three firms will occupy the 16th floor of the building, which features new high-end prebuilts designed by Gensler, with 10-foot ceilings and perimeter offices.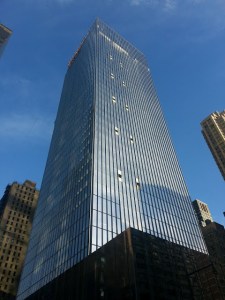 The leases come on the heels of Modern Bank's own 13,200-square-foot lease at the property in February.
"The prebuilts have been on fire since we started marketing them," said CBRE's Sam Seiler, who represented Boston Properties with Christie Harle and Peter Turchin of the same firm, in a written statement. "We are attracting a variety of high-quality and growth-oriented businesses that appreciate the building's high-end finishes, terrific efficiency and great views."
Pamela Parasugo of Howard Ecker + Company represented Veracen in the deal, which carves out the financial investment advisory firm's first New York City offices.
The one-million-square-foot tower, designed by SOM, was completed last year and conceived as a contemporary take on the firm's mid-century Lever House.
RTW Investments & LifeSci Capital, a healthcare investment firm, is relocating from 1350 Avenue of the Americas. Oliver Petrovic, of Studley, represented that tenant in its five-year deal. CBRE's Arkady Smolyansky and Ben Friedland represented Coltrane Asset Management, which is relocating from 10 East 53rd Street.  
Asking rents were into the $90s per square foot, sources said.