SL Green Signs 17 Deals at the Graybar Building
---
---
SL Green has signed 17 leases totaling over 86,000 square feet at its 420 Lexington Avenue property in recent weeks, according to The New York Post. The tower, also known as the Graybar Building, is now 95 percent leased.
Leading the way was a 19,682-square-foot expansion for Pride Technologies LLC and Pride Global Finance, the Post reported. Pride Global, a private equity holding company, operates Pride Technologies, an information technology company.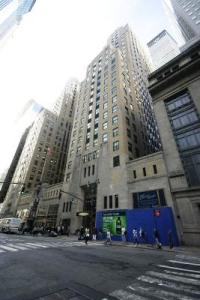 Steve Durels, director of leasing at SL Green, told the Post he expects the building to be 98 percent occupied by the third quarter. As reported by Commercial Observer, Metro-North signed a 20-year, 265,903-square-foot lease at the Graybar Building late last year.  Asking rent for space in the building averages $60 per square foot.
Last year, the Municipal Art Society made 17 recommendations, including the Graybar Building, for landmark status ahead of Midtown East rezoning review process. Ultimately, the rezoning proposal, which may yet be revived, was scuttled by the City Council.