Siderow Forms Commercial, Residential Divisions
---
---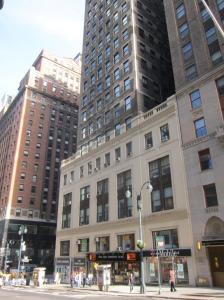 Manhattan-based boutique commercial and residential real estate firm The Siderow Organization has formed two new divisions within the company—Siderow Commercial Group and Siderow Residential Group.
Siderow Residential Group came out of the quiet December acquisition of Atlas New York. At the time, Atlas founder Lauren Weiner became a Siderow partner, joining Brad Siderow and Joshua Arcus. She brought along with her four agents. The Siderow Organization wouldn't disclose the terms of the deal.
The Siderow Organization was founded by Mr. Siderow and Eric Levy in 2008. The duo parted ways in 2011 following a dispute over Mr. Levy wrongfully misappropriating and co-mingling funds for his personal benefit, Crain's reported, citing legal documents, in 2011. The duo met while working as brokers at Murray Hill Properties (Mr. Siderow is the son of Murray Hill Properties former Chairman and Co-founder Neil Siderow). The Siderow Organization declined to comment on the dispute and said that Mr. Arcus has been at the firm since its inception.
Mr. Arcus and Ms. Weiner head up Siderow Residential Group and Mr. Siderow oversees Siderow Commercial Group. Since the end-of-year merger, 12 new residential agents have joined the firm bringing the total to 23, including Juan and Li Chen, 28-year-old twin sisters. A spokeswoman for the firm said that in the first month after the merger, the agents signed $6 million in residential sales exclusives and $30,000 in rental exclusives.
As for why Ms. Weiner merged her firm with Siderow, she said in a prepared statement: "I wanted to expand my platform, grow my business exponentially and continue to provide excellent service to my clients, and to do that I needed the right partner."
The growth of the commercial arm wasn't immediately clear.
Both divisions are based out of the firm's headquarters at 315 Madison Avenue at 42nd Street, but will eventually have separate offices.