RCM Technologies Takes Space at Cohen Brothers' Storied Westchester Complex
---
---
Technology company RCM Technologies is relocating its Westchester County offices to Charles Cohen's 333 Westchester Avenue.
The company, which has 25 offices in metros across North America, including one at 575 8th Avenue in Manhattan, signed a 9,000-square-foot lease for a portion of the second floor in the East Building of the 39-acre, 500,000-square-foot White Plains office campus.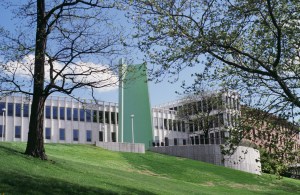 The complex, headquarters of General Foods Corporation (makers of, among other food products, JELL-O) in the 1950s, is today anchored by four interconnected mid-rise office buildings.
"We're seeing an uptick in activity from industries of all kinds looking to expand their presence in Westchester County," Mr. Cohen said in a statement.
Reis, Inc., USI Inc., Prager Metis, CURE, USA Vision and Amalgamated Bank are among those to have recently signed leases at the property, which includes gardens and courtyards, a 15,000-square-foot fitness center with a half basketball court, over 2,000 parking spaces, a Bistro 333 eatery and a 200-person conference center.
Marc Horowitz of Cohen Brothers Realty Corp. and Matthew Lisk of Cushman & Wakefield represented the landlord, while Stephanie Coleman of Cresa represented the tenant, with asking rents of $26 per square foot.
RCM, which in addition to technology series provides specialty healthcare services to major healthcare institutions and educational facilities, expects to relocate in the third quarter.
General Foods Corporation was purchased in the mid-1980s by Philip Morris Companies, which would go on to acquire Kraft, Inc. in 1988 and later rename the company Kraft General Foods.
Mr. Cohen purchased the property from Phillip Morris in 1998, renovating the complex and repositioning it as a multi-tenant complex with the help of architect Philip Johnson in 2000.
333 Westchester Avenue
,
575 8th Avenue
,
Charles Cohen
,
Cohen Brothers Realty
,
Cresa
,
Cushman & Wakefield
,
General Foods Corporation
,
JELL-O
,
Kraft General Foods
,
Matthew Lisk
,
Philip Morris Companies
,
RCM Technologies
,
Stephanie Coleman