Partnership Scoops Development in Untapped South Slope
---
---
A partnership of Slate Property Group, Adam America Real Estate and AEW Capital Management has purchased the 99-year ground lease on a development site at 535 Fourth Avenue in South Park Slope, Brooklyn.
The trio plans a mixed-use development at the site, which housed Strauss Discount Auto before sitting dormant for several years, with up to 118,000 buildable square feet, 141 apartments and 200 feet of retail frontage.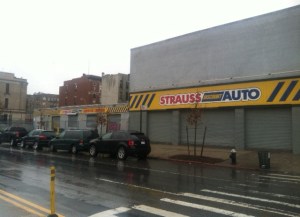 While Fifth Avenue in South Slope flourishes with a range of nightlife and restaurant options, Fourth Avenue, which borders South Park Slope and the up-and-coming Gowanus neighborhood, has been slower to pick up, maintaining a more family-oriented, less commercial vibe.
Omri Sachs, managing director at Adam America, said in a written statement that the partnership sees "untapped value" and plans to "enhance the neighborhood's residential stock."
A number of other condo and rental developments – including one directly across the street on Fourth Avenue – and restaurants with higher-priced menu options have recently entered the market and the high-end residential properties would "fill a void in the Park Slope marketplace," said Slate Property Group co-founder David Schwartz, who told The Real Deal that rents will start at $2,000 per month for studios.
The property marks the development team's third acquisition on the avenue, also picking up 470 Fourth Avenue and 270 Fourth Avenue over the course of the last 10 months, with plans to develop approximately 325 residential units and 25,000 square feet of retail space.
Construction at 535 Fourth Avenue is scheduled to begin in early 2015.