Park51's Home Faces Wrecking Ball [Updated]
---
---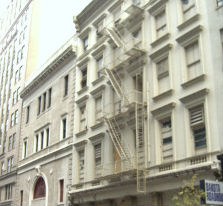 Soho Properties' Park51 community center and prayer space at 45-51 Park Place is facing demolition, according to Department of Buildings records.
Applications were filed today to demolish the five-story 45 Park Place and the four-story 51 Park Place.
Park51 officially opened its doors as a cultural and community center at 45-51 Park Place in September 2011, a year after controversy ensued following announcement of plans for a 15-story Muslim institution two blocks from the World Trade Center, which Islamic radicals attacked on September 11, 2001.
As Commercial Observer previously reported, Soho Properties was searching for temporary space for Park51 in March. Sharif El-Gamal, chairman and CEO of Soho Properties, did not respond to a request for comment.
Mr. Gamal's spokesman, Hank Sheinkopf, would only say: "Plans for the site will be announced at a later date."
Update: This story has been edited to include a comment from Sharif El-Gamal's spokesman.