Old 21st Precinct Station House in Gramercy Area Sells
---
---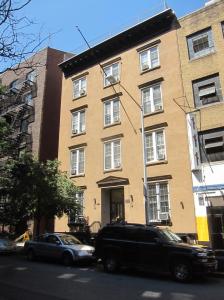 The former 21st Precinct station house, which served as a Gramercy Park-area group residence for 25 lesbian, gay, bisexual, transgender and queer young people, has sold for $11.5 million to Suzuki Capital.
Green Chimneys, a Brewster, NY-based nonprofit organization that provides residential, educational, clinical and recreational services to young people, paid $1.7 million for the property, at 327 East 22nd Street, in 1998, although it had leased space there since 1983, according to Green Chimneys' executive director, Joseph Whalen. When a contract with the city's Administration for Children's Services expired last year, Green Chimneys moved its residents out and decided to sell the building, which was dubbed Gramercy Residence at Ungar House.
The four-story building was designed as a precinct station house in 1863, according to blog Daytonian in Manhattan. It also functioned as headquarters for a battalion of the 7th New York Regiment.
In 1952, the precinct, at that point renamed the 13th Precinct, moved into a new building on East 21st Street.
The recent deal went into contract at the end of last year and closed on April 3. It was recorded with the city last Thursday.
Colby Swartz of Suzuki brokered the off-market deal for his firm, a real estate and business financial brokerage firm specializing in commercial real estate and solar energy, and Mr. Whalen said he handled the transaction for Green Chimneys. The deal included 7,000 square feet of extra air rights. Mr. Swartz didn't immediately return a phone call seeking comment.
Green Chimneys' headquarters is on a farm and wildlife center in Brewster and is well-known for providing animal-assisted therapy and educational activities for children with special needs.
The nonprofit recently leased office space at 127 West 127th Street to accommodate the staff who oversee the federally-funded LGBTQ programs in the city, but Green Chimneys mostly operates outside of the city.