Northside Media Group Heads from Dumbo to DoBro
---
---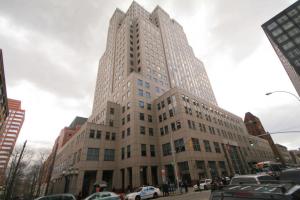 After 11 years in Dumbo, Northside Media Group, publisher of The L Magazine and Brooklyn Magazine, moved to Downtown Brooklyn's 1 MetroTech Center yesterday, according to one of Northside's co-founders, Daniel Stedman.
The company, which also specializes in the marketing, branding and execution of events like SummerScreen, Absolut Bonus Track and the Northside Festival, was ready for a change and needed bigger digs for its 25 employees, Mr. Stedman said.
"We've always enjoyed being on the cusp of an up-and-coming neighborhood and we feel Downtown Brooklyn is up and coming," Mr. Stedman said.
Northside's Dumbo office, at 45 Main Street, was 1,300 square feet . The new digs are 2,700 square feet.
As for why the company chose to take space on the 18th floor at the Forest City Ratner Companies-developed building, Mr. Stedman said he is friends with a couple of the executives.
The lease is for three years with an option to renew, Mr. Stedman said. The company is in talks with local artists to paint a mural on the wall.
Mr. Stedman and Forest City wouldn't indicate the rents, but taking rents in the building are in the high $30s to the low $40s per square foot, a source with intimate knowledge of the building said.
Ali Esmaeilzadeh of Forest City Ratner Companies represented the company in the deal and Mr. Stedman and Northside CEO Nick Burry represented Northside.