Natixis and UC Funds Lend $27M to Convert Historic Baltimore Office To Apartments
---
---
Long Island-based JK Equities closed $27 million in construction funds from Natixis Global Asset Management and Boston-based UC Funds, to redevelop a historic downtown Baltimore building, Mortgage Observer has learned. The three-year, 4.91 percent loan closed earlier this week.
The Equitable Building, at 10 North Calvert Street in Baltimore, dates to 1891 and was acquired by JK last November for $7.2 million, according to published reports. The loan proceeds helped fund the acquisition and will also help with the $32 million bill to renovate the property, currently an office building, into 188 market rate residential units.The redevelopment will also include 25,000 square feet of retail, said Jerry Karlik, the president of JK Equities.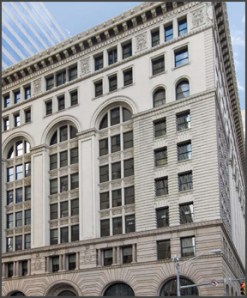 Eastern Union's Ira Zlotowitz and Meir Kessner, respectively president and senior managing director, brokered the $21.5 million non-recourse loan from Natixis, according to a representative for Eastern.
JK arranged the $5.5 million in preferred equity financing from UC Funds on its own, said Mr. Karlik.
Representatives for Natixis were not immediately available for comment.
"We enjoyed working with both of these firms," Mr. Karlik told Mortgage Observer.
The deal signifies the return of Wall Street money to riskier construction lending, said Mr. Kessner in a statement to Mortgage Observer.
"Before 2007, Wall Street lending accounted for a third of our business," Mr. Kessner said. "The deals we have in our pipeline bring us back to that level."