Hersha, Lam Hotels Readying to Open in FiDi
---
---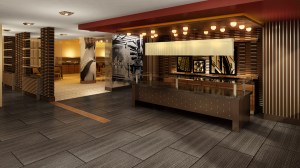 Architectural and interior design firm Glen & Company has been busy designing the interiors of hotels, especially in the Financial District. And his most recent work is getting ready for its bow as a hotel for Hersha Hospitality Trust and three hotels for the Lam clan are set to open over the next several months.
"It really was an underserviced market in terms of hotel rooms," said Glen Coben, founder of Glen & Company.
Up first is Hersha Hospitality Trust's 80-room Hampton Inn at 32 Pearl Street, at which Glen & Company designed the public spaces. Hersha purchased the property from Sam Chang of McSam Hotel Group in 2011 and kept the architectural plans Mr. Chang developed with architect Gene Kaufman. The opening date is in one to three months. Mr. Coben said he started working on this project in 2010 before Superstorm Sandy hit and caused damage to the project.
"I think that really changed the outlook on construction down there," Mr. Coben said.
Three Lam family hotels that are expected to open by early July are Fairfield Inn & Suites, Aloft and Four Points. The first two are select-service only.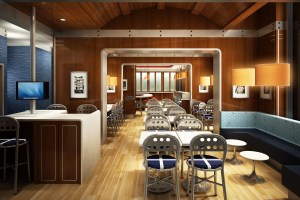 At Fairfield Inn & Suites, at 161 Front Street, Peter Poon Architects has designed a 31-story, 176-room (plus one penthouse duplex apartment) hotel for Lam Generation. The hotel, with interiors by Glen & Company, will feature port-hole windows in bathroom doors and nautical-inspired accents throughout the guest rooms. Artifacts that were uncovered during the excavation will be displayed in the lobby, which is meant to feel like a luxury yacht.
Custom furniture at the Fletcher Street hotel is designed to resemble deck furniture and the lighting is inspired by nautical motifs. The accent wall covering is a reproduction of the navigational maps of the East and Hudson Rivers in the form of an old blueprint.
Also by Lam Generation is Aloft at 49-53 Ann Street. The 18-story hotel, designed by Nobutaka Ashihara, has 128 rooms which Glen & Company have reconfigured so they could have the Aloft feel despite the small New York City space.
"The only real change [from the typical Aloft hotel] in terms of the design is fitting it into a much smaller box," Mr. Coben said. The guestrooms are 140 square feet versus Aloft's typical 200 to 300 square feet, he added.
Amenities will include w xyz bar, re:charge gym, re:fuel self-serve eatery in the lobby.
And finally there is The Lam Group's Four Points at 6 Platt Street, also by Nobutaka Ashihara. It is a 28-story structure with 265 rooms, including four suites. Amenities include a full-service restaurant and two separate roof top bars.
The Glen & Company lobby design is inspired by banking halls and trading floors. A wall of safe deposit boxes lines the elevator core, while a custom-designed wallcovering that resembles gold bars lines the hallways. A massive graphic of a safe door printed on glass is interrupted by an arty "ticker." The rooms were inspired by the suits worn by bankers and titans of industry.
The number of hotels in Manhattan's pipeline has gone up this year compared with last year, while the room count has dropped, according to data through February, as Commercial Observer previously reported.