Haifa-Related Non-Profit Opening in FiDi
---
---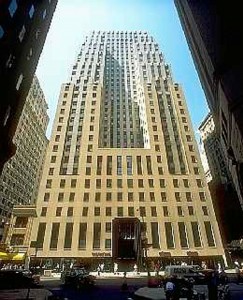 The American Society of the University of Haifa is setting up shop at 80 Broad Street, Commercial Observer has learned.
The non-profit organization, which promotes American-Israeli interests and values by serving as the bridge between the University of Haifa and Israel-minded Americans, is taking 2,305 square feet on a portion of the 21st floor. The lease is for seven years in the building, which is between Stone and Beaver Streets.
The organization is moving in immediately as it relocates from 245 Fifth Avenue.
Hal Stein, Todd Stracci and Adam Leshowitz of Newmark Grubb Knight Frank represented the landlord, Savanna, while Sam Mann of Cresa New York represented the tenant in the transaction. Mr. Mann declined to comment.
The building at 80 Broad is 420,000 square feet, with 8,600 square feet of retail on the ground floor. The floors span 7,500 to 15,150 square feet, according to property information on Swig Equities' website. Swig is the property manager and leasing agent following Savanna buying the senior mortgage loan on the troubled building from Swig in 2011. Swig had acquired the 410,000-square-foot building for $70 million in 2004.
The American Society of the University of Haifa joins Revenue Watch Institute, a non-profit policy and grantmaking organization, Indus Architect and the Spain-U.S. Chamber of Commerce at 80 Broad.
The asking rent was $40 per square foot, Savanna said.