FiDi Getting Gastropub With 70 Beers [Updated]
---
---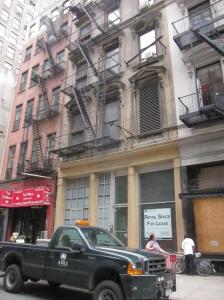 The owners of Rattle N Hum, Beer Authority and The Irish American are opening one of the largest craft beer bars in Lower Manhattan, Commercial Observer has learned.
Rattle N Hum and Beer Authority owners Eamon Donnelly and Joseph Donagher have teamed up with Brian McLaughlin, owner of The Irish American, to open Barleycorn craft beer and grill at 23 Park Place. On the ground floor of Barleycorn, slated to open in September, there will be a 4,000-square-foot gastro-style pub with 70 beer lines, a full-service kitchen, an in-house pizza oven and a raw bar, Mr. Donnelly said.
There will be a 40-foot bar with 30 beer lines on the 4,000-square-foot second floor, which will be used for private functions. Barleycorn leased an additional 5,500 square feet in the basement and sub-basement of the building, which once served as the New York Daily News' headquarters.
Mr. Donagher said that Rossrock approached Mr. McLaughlin about taking the space, which had an asking price of $60,000 per year. The lease is for 15 years, Mr. Donagher said, noting that there were no brokers involved in the deal.
"There are people living down there with nowhere to go," Mr. Donagher said. "We're hoping to give them what they need—a nice night out without having to travel far away."
Following a December 2011 foreclosure auction, New York-based real estate investment firm Rossrock Fund gained possession of the five-story, 23,664-square-foot building, according to PropertyShark. James Ross, the managing member of Rossrock, didn't respond to a request for comment.
Update: This story was edited to include lease information as well as a quote from one of the owners.
23 Park Place
,
Barleycorn
,
Beer Authority
,
Brian McLaughlin
,
Eamon Donnelly
,
James Ross
,
Joseph Donagher
,
New York Daily News
,
Rattle N Hum
,
Rossrock Fund
,
The Irish American