Fashion Accessories Center Draws New Tenant
---
---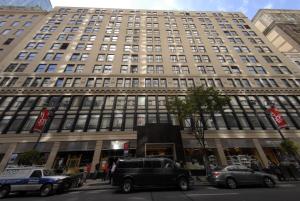 Children's accessories designer and importer H.E.R. Accessories LTD is relocating its office and showroom to Ten West Thirty Third Associates' 10 West 33rd Street, also known as the Fashion Accessories Center. 
H.E.R. picked the Garment Center building because "the landlord runs a great building for accessory showroom companies," said the tenant's broker in the deal, Michael Beyda of Benchmark Properties. Also, H.E.R. liked the "quality of the space," he added. the company is moving from 15 West 37th Street.
The seventh-floor space is roughly 7,800 square feet and the lease is for nine years and seven months, starting when the tenant moves in next month, Mr. Beyda said. The asking rent was $36 per foot. The 12-story building (plus penthouse) was erected in 1914, according to the New York Times, which first reported the deal.
Tenants in the building have included A Classic Time Watch Company, Barganza, Global Design Concepts, Rosetti Handbags, Legends Bar & Grill, Jim Hanley's Universe and the United States Post Office. The building is 100 percent leased, said David Levy of Adams & Co., who represented the landlord in the deal, with 120 tenants, primarily in the fashion accessories business.
"Ten West 33rd St. continues to be a priority building for fashion accessories companies with a loyal tenant base," Mr. Levy previously told Commercial Observer.